Eastern Sierra Fish Report
Fish Report for 7-23-2021
Eastern Sierra Fishing Report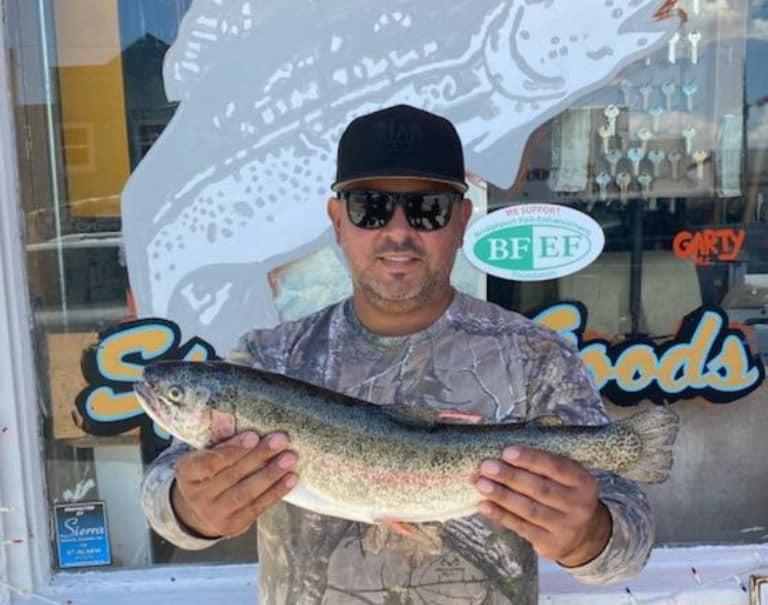 Happy anglers continue to catch BFEF tagged trophy trout. Today Armando Rodriguez caught this funtastic BFEF TTT at Upper Twin Lake/Mono Village. This BFEF TTT fish weighed in at 3 pounds 12 ounces. Anglers who fish @ Upper Twin Lake, Robinson Creek, Walker River Drainage, Bridgeport Reservoir and both Virginia Lakes have the opportunity to join the 1 and Only BFEF TTT CLUB, just like this gentleman did today!😁🐟🎣👏. There's plenty more waiting for all of you!🐟🎣 FYI, there's a great tournament this week coming week (July 24 - 31) at Mono Village/Upper Twin Lake, come join the fun! Mono Village just stocked some great trophy trout as well!😁
Photo Credit: Courtesy of BFEF
Hello fellow anglers. This time of year I would be reporting on how hot it is, and that you need to get up early to get on the fish before the day heats up and the fish go into hiding . But I cannot do that. I can not tell you how many reports I have written about fire safety when we are out enjoying our mountainous playgrounds.  But, one thing I can tell you is that there is one person that does not read the Naw report. That would be the person that works for the US Forest Service Department and did not heed their own warnings. Which in turn made the idiocy decision to monitor a lightning strike in the middle of the forest.  If you have not seen the video footage. There was a helicopter sent to monitor and shoot video of the lightning strike. What I saw was a row of large trees with fire surrounding the base of them, one which had a few snags around it ( like kindling on a campfire ) With granite rock surrounding it. Only a few feet away were more trees,  and a small pond area.  My biggest question is. Why did they not send up a chopper with a dump bucket on it. This whole Tamarack Fire incident could have been avoided by reading the Naw report. I have said it over and over again. Always doust all campfires with water, stir and repeat until cool and all glowing embers have been extinguished.  You know where I get my fire safety information? I get the information from the Forest Service bulletins that are put out online and I have called our local agencies for information.
Last week I did not write a report. When I got home on Friday night after seeing the smoke from my home. I called a few friends in the Markleeville area. Two did not answer and one told me its nothing to worry about. He told me of the lightning strike that hit on July 4th, but the Forest service had been monitoring it. It was far away from his place and he would be fine. He told me he was going to go check it out and call me back.  I never received that call back. That was how fast the fire erupted. My friend was evacuated within a short time of our call.  Many of you may ask, what does this have to do with a fishing report?  It is because of the decision, made by the US Forest Service, we do not have our playground, our backyard, a little bit of heaven, that little home away from home. I may not get to go back and watch the otters try to catch the fish I was trying to catch. To see a bear walk up the side of the river, or a few deer come down to take a drink of water and cross the river only a few feet away. To sit back and enjoy the beauty of watching the old man that watched over Woodfords Canyon as the sun went down. That is a story you could only hear about if you have fished this area as long as I have. I am truly grateful to the firefighters and law enforcement and to all that have sacrificed so much, to save as much as they could, without loss of life. From a small half acre fire that could have used a little more attention, to 50K plus acres now and growing.  To me, this is not acceptable.  Your fishing report for the local area is not favorable this week. Many areas are not accessible due to road closures from the Tamarack Fire.
 
CAPLE LAKE: Water level is low and the resort is open with boat and kayak rentals. The fishing has been slow to fair. Last week a couple anglers caught a 3lb and a 15lb mackinaw from a boat. Shore anglers have been picking up a couple here and there. For more information stop by the Caples Lake Resort.
RED LAKE: Fishing has been fair with a few rainbow caught around the dam area. The water quality was tested last month for blue green algae and it was non detected. But alway use caution.
BLUE LAKES: Road closed due to wildfire.
BURNSIDE LAKE: Road closed due to wildfire.
INDIAN CREEK RESERVOIR: Road closed due to wildfire.
EAST AND WEST FORK CARSON RIVERS CALIFORNIA SIDE: Road access closed due to wildfire. The town of Markleeville  and the Carson River Resort is still standing.
TOPAZ LAKE: Fishing was fair for shore and boat anglers. The Douglas County boat ramp is still open. Water level is low. Access to the lake is closed due to wildfire.
CARSON RIVER DOUGLAS COUNTY: Access is closed due to wildfire and road closures.
BRIDGEPORT RESERVOIR: The water level is low and holding.. Trout fishing has been spotty. Some shore anglers have been picking up a couple. Boaters have been dropping powerbait around rainbow point. The perch action has been good, mainly by the dam. The Bridgeport Marina is open for camping and is renting boats off of the shore. Boat launching is not available at the marina. For more information stop by or call the bridgeport marina. The only road access is through Wellington off highway 95. Highway 395 as of Thursday Night was closed in both directions. Check with Cal/Trans for updates.
Good luck on your next fishing adventure. I hope and pray for the safety of all those fighting these wildfires that are trying to protect our homes and lands. Good fishin' and tight lines.
Good luck on your next fishing adventure. If you have a question. a report in our local fishing area or have a photo of your catch, send it to

[email protected]

. Hope to see you on the waters. Good fishin' and tight lines.
< Previous Report
Next Report >
www.EasternSierraFishReports.com © 2022. All Rights Reserved.
Website Hosting and Design provided by TECK.net