Eastern Sierra Fish Report
Virginia Creek Fish Report for 7-8-2019
June 30-July 6, 2019 - Virginia Lakes Resort Fish Report
Virginia Creek - Bridgeport, CA (Mono County)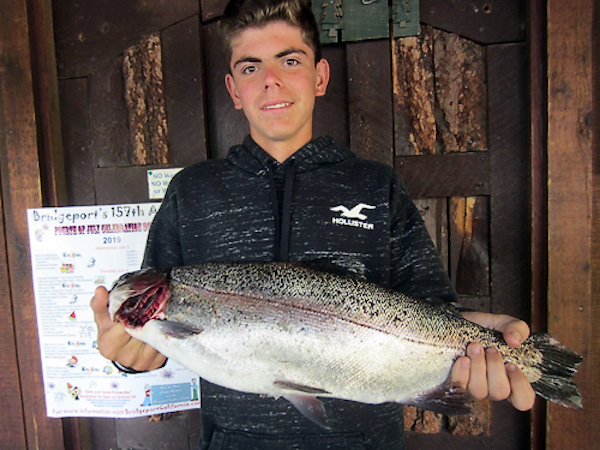 Ethan Bankheade El Cajon, 4lb8 micetail 7-1 LV*
Photo Credit: Courtesy of Virginia Lakes Resort Staff
This report will only go to Friday July 5th, as our considerate Web-Site developer will be here starting Saturday the 6th. The following week he will leave and the report will include the 6th to the 14th. So if you pix does not appear as expected please check the following Sunday.

Early am temperature was warmer but then it took a dive again. Tuesday: Low pressure over the PACNW and high pressure over the Desert Southwest will continue to bring us steady weather. That is, dry conditions, seasonal temperatures and typical afternoon breezes thru the 4th of July. By Friday, high pressure over the EPAC will start building inland over California. This will favor a warming trend, with no precipitation is sight.

835 pounds of BFEF Tagged Trophy Trout arrived today and took up their new home in Bridgeport area waters, just in time for all you anglers coming for the 4th of July weekend. These fish averaged 4+ pounds. Today's stocking included; Upper Twin Lake, Robinson Creek, Doc and Al's, Bridgeport Reservoir, & both Big and Little Virginia Lakes. These fish were purchased because of your tax deductible donations to BFEF as well as a public private partnership (cost-sharing program) established with marina operators.

The stock truck arrived Wednesday from Fish Springs with 400 pounds for the holiday. This was very considerate of their time and everyone was grateful to see the fish.

BAIT: Worms are ahead of the game, with Bubblegum Micetails a close second, and only the few that know the right jigs will get into fish. Use Garlic powerbait, rainbow glitter powerbait and Captain American on occasion when the trout feel the need.

LURES:. Tomas Buoyant red/gold, small Rooster Tails, 'Lil Jake Gold/red, small Kastmasters, small gold Phoebe's, Panther Martin's black with yellow dots, and yellow with red dots.
FLY AND BUBBLE: Still not much action, just not warm enough, but a few anglers gave it a shot and got a lot of hits but no takes.
FLY RODS: Most action has been on black woolly buggers, olive woolly's, olive eyed damsels, a few terrestrials (ants, hopper here and there) as it's getting warmer. Dirty doc over a hare's ear or prince nymph (unweighted). Try all your underwater bugs, you might just get lucky. It's been a great week.
BACKCOUNTRY: Small brookies, and they seem to be getting smaller. Small dark flies, and the mosquitoes have not really hit our elevation yet, but there are scouts, so be prepared.
NOTE: If the trout bleeds don't throw it back into the lake, it will die and IT ATTRACKS BEARS. If you care about the resource please be careful when releasing fish back into the water, .
Carolyn
Trophy Trout for the week (*pix attached)
Little Virginia/LV, Big Virginia/BV, Trumbull/T*

Ethan Bankheade El Cajon, 4lb8 micetail 7-1 LV* (BIGGIE for the week) (perens BFEF tagged trout)
Mark Lopresti Parker AZ 4lb5 tag (667) Lure 75 Big Virginia*
Steve Miller Bishop 3lb3 (396) BFEF worm 6 30 Little Virginia*
Jacob Torres West Covina 2lb9 (454) blown crawler 6 30 Little Virginia*
Sydney Tanaka Torrance 4lb1 (383) BFEF micetail 7-1 Little Virginia8
Byron Yung Upland 3lb8 (633) Lure, 7-3 LV*
Tim Campbell Gilbert AZ 4lb1 Buoyant Little Virginia*
Audrey and Ted Zitnay Gilroy, 4lb1 #514 BFEF, 4lb4 (668) 7-3 Little Virginia*
Kayden Cornelius of Covina 4lb4 micetail 7-3 Little Virginia*
Rocco Firrin Tehachapi 4lb2 Rooster Tail 7-4 Little Virginia*
Jordan Williams Rialto 4lb3 Mini Jig 7-4 Little Virginia*
Steve Polchow Pasadena, 4lb Trophy on a Zug Bug, Little Virginia*
Savannah Ettelt age 12 Rancho Santa Margarita 3lb6 powerbait 7 5 Big Virginia
Virginia Lakes Resort is located near the top of Conway Summit between Mono Lake and Bridgeport, CA. We have everything you need to enjoy the Eastern Sierra. Check out our WEBSITE.
< Previous Report
Next Report >
< Previous Report
Next Report >
More Reports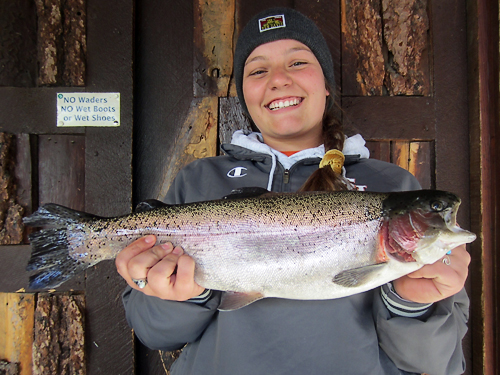 6-30-2019
Temperature was on the rise this week and we had a few days of high clouds with some clearing. Bring......
Read More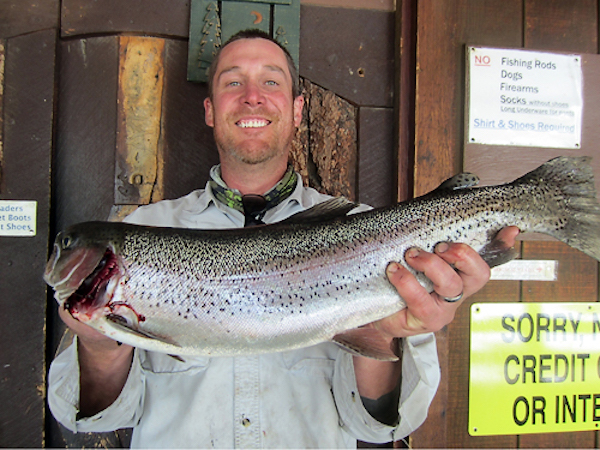 6-16-2019
June 9 -15, 2019 - Virginia Lakes Resort Fish Report Weather: - (7am Temp Sunrise/Sunset) Wednesday Fishing started slow but picked up......
Read More
www.EasternSierraFishReports.com © 2020. All Rights Reserved.
Website Hosting and Design provided by TECK.net