Eastern Sierra Fish Report
Virginia Lakes Fish Report for 7-14-2019
Virginia Lake Fishing Report July 6-13
Virginia Lakes - Bridgeport, CA (Mono County)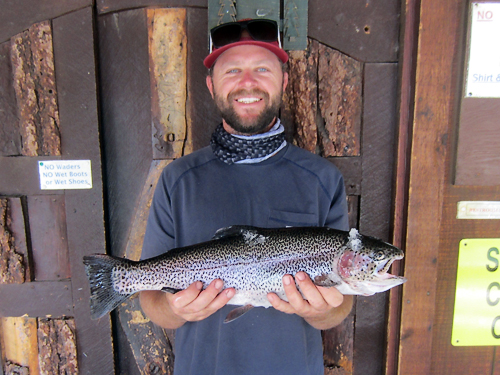 DJ Bradbury riverside 4lb4 crankbait 7 11 Little Virginia
Photo Credit: Courtesy of Virginia Lakes Resort Staff
July 6-13, 2019 - Virginia Lakes Resort Fish Report
The stock truck arrived a nice load of trophy's last Tuesday am. BFEF arrived early Thursday am.
BAIT: Night crawlers, powerbait, micetails brown/redhead, bubble gum, chartreuse with tan head, garlic night crawlers, power worms and nuggets (lots of 'em).

LURES: Small gold Kastmasters, mini jigs (assorted colors), Rooster tails black or green chartreuse, Hot Shots gold/red (if you can find them), Red/gold small Buoyants, bleeding frog and blue/silver.
FLY AND BUBBLE: This has been a difficult transition for "bubble boys" but it finally happened about 4 days ago. The bugs just came OFF. Everything has hatched from the largest lace wing caddis to teeny-tiny gnats. BUT, good news is no mosquitoes yet. Woohoo!, But wait, breaking news late yesterday, they are up at the Frogs and down at the lower 139. Bring everything and cover any exposed skin; these bugs are the size of helicopters.
FLY RODS: The bugs have arrived so let the fishing begin! Several hatches opened up fishing to fly anglers so there are many choices to make within a range of water levels. Streamers for strippers, nymphs for those fishing the extreme bottom (or 2 fly rig), and emergers for those fishing just below the surface. Some dry action, but they're picky with the amount of food coming off the bottom.
BACKCOUNTRY: Improving daily so start with standard dry flies, mosquitoes, black gnats, elk hair caddis (naked) grey hackle yellow's, Griffith's Gnats etc. If they get picky you'll have to try smaller flies of the above.
NOTE: If the trout bleeds don't throw it back into the lake, it will die and IT ATTRACKS BEARS. If you care about the resource please be careful when releasing fish back into the water, .
Carolyn

Trophy Trout for the week
Little Virginia/LV, Big Virginia/BV, Trumbull/T

Darin Bankhead El Cajon 4lb2 crawler 7-5 Little Virginia
Scott Sugaa Marina Del Rey 3lb8 BFEF 496 power worm 7 6 LV
Emma Adams age 8 Huntington Bch 3lb8 BFEF 414 powerbait 7 6 LV
Yuji Sueyoshi Banning 4lb12 3lb5 BFEF tag 421 crawler 7 8 LV
Mani Albrecht Imperial Beach 3.9 BFEF tag 596 Woolly Bugger 7 8 LV
Jim Hammons Fountain Valley 3lb worm/powerbait 7-8 Little Virginia
Kirk Larsen Oakhurst 3lb6 Buoyant 7 8 Little Virginia
David Cairns Scotland 4lb3 powerbait 7 8 Little Virginia
Ron Perrine Nashville 3lb trophy Buoyant 7 8 Big Virginia
Steve Almaraz Grand Terrace 3lb5 powerbait 7 8 Big Virginia
Abel Pedroza Grand Terrace 3lb1 powerbait 7-8 Big Virginia
Ron Perrine Nashville TN 3lb Buoyant Big Virginia
Randall Kutscher Stanton lure 7 10 Little Virginia
Jeri Vailincourt Aliso Viejo 3lb3 tag 466 Black Woolly Bugger 7 10 LV
Bettye Swart Aliso Viejo 3lb Tenkara fly 7 10 Little Virginia
Brian York Simi Valley 3lb5 micetail 7 11 Big Virginia
Kenny and Craig Sunada Chino Hills 2.9 worms 3lb6 powerworm 7 11 LV
DJ Bradbury riverside 4lb4 crankbait 7 11 Little Virginia
Larry Casteel Piercy 3lb6 Buoyant 7 11 Little Virginia
Dennis Caputo Berkeley 3lb7 7 12 Little Virginia
Sal Valley Culver City 4lb (BFEF 401) worm 7 12 Little Virginia
Dean Wake Porter Ranch 4lb5 (BFEF 689) micetail 7 12 L
Josh Davis cypress 4lb2 BFEF 660 garlic crawler 7 12 LV
Bud Crook Placerville 4lb3 FLY (2lb leader) 7-11 Little Virginia
Steve Behn Beaumont 2lb7 BFEF 447 Buoyant 7-12 Little Virginia
Bob Olsen San Jose 3lb8 trophy 7 12 Little Virginia
Michael Anthony Rancho Cucamonga 4lb3 powerbait 7 13 Big V
Dan O'Toole Woodland 3lb1 crawler 7 13 Little Virginia
Rick Sombounkhane TNT Huntington Beach Sniper Bait 3lb1, 3lb4 LV
Travis Blue Eyes TNT Huntington Bch Sniper Bait 3lb1 3lb4 7 13 LV
Travis Evil Brow TNT Huntington Bch sniper bait 3lb3 3lb1 7 13 LV
Jeff Finch Bakersfield 4lb3 worm 7 13 Big Virginia
Carson Love Carson City 2lb7 BFEF 435 Lure 7 13 LV
FS (late Sat-sun but Picked up Monday)
Virginia Lakes Resort is located near the top of Conway Summit between Mono Lake and Bridgeport, CA. We have everything you need to enjoy the Eastern Sierra. Check out our WEBSITE.
< Previous Report
Next Report >
< Previous Report
Next Report >
More Reports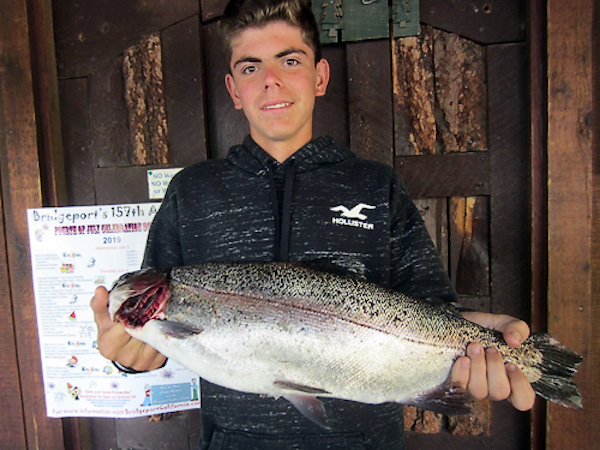 7-8-2019
This report will only go to Friday July 5th, as our considerate Web-Site developer will be here starting Saturday the......
Read More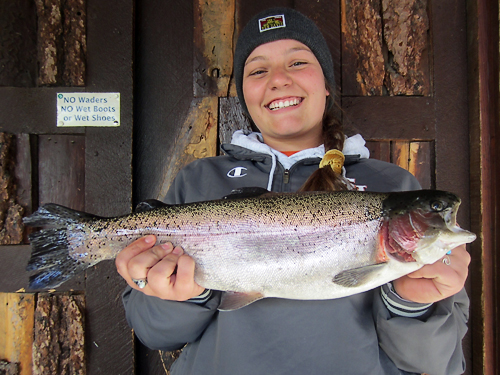 6-30-2019
Temperature was on the rise this week and we had a few days of high clouds with some clearing. Bring......
Read More
www.EasternSierraFishReports.com © 2021. All Rights Reserved.
Website Hosting and Design provided by TECK.net