Eastern Sierra Fish Report
Fish Report for 9-1-2020
Sierra Drifters: Fish N' Conditions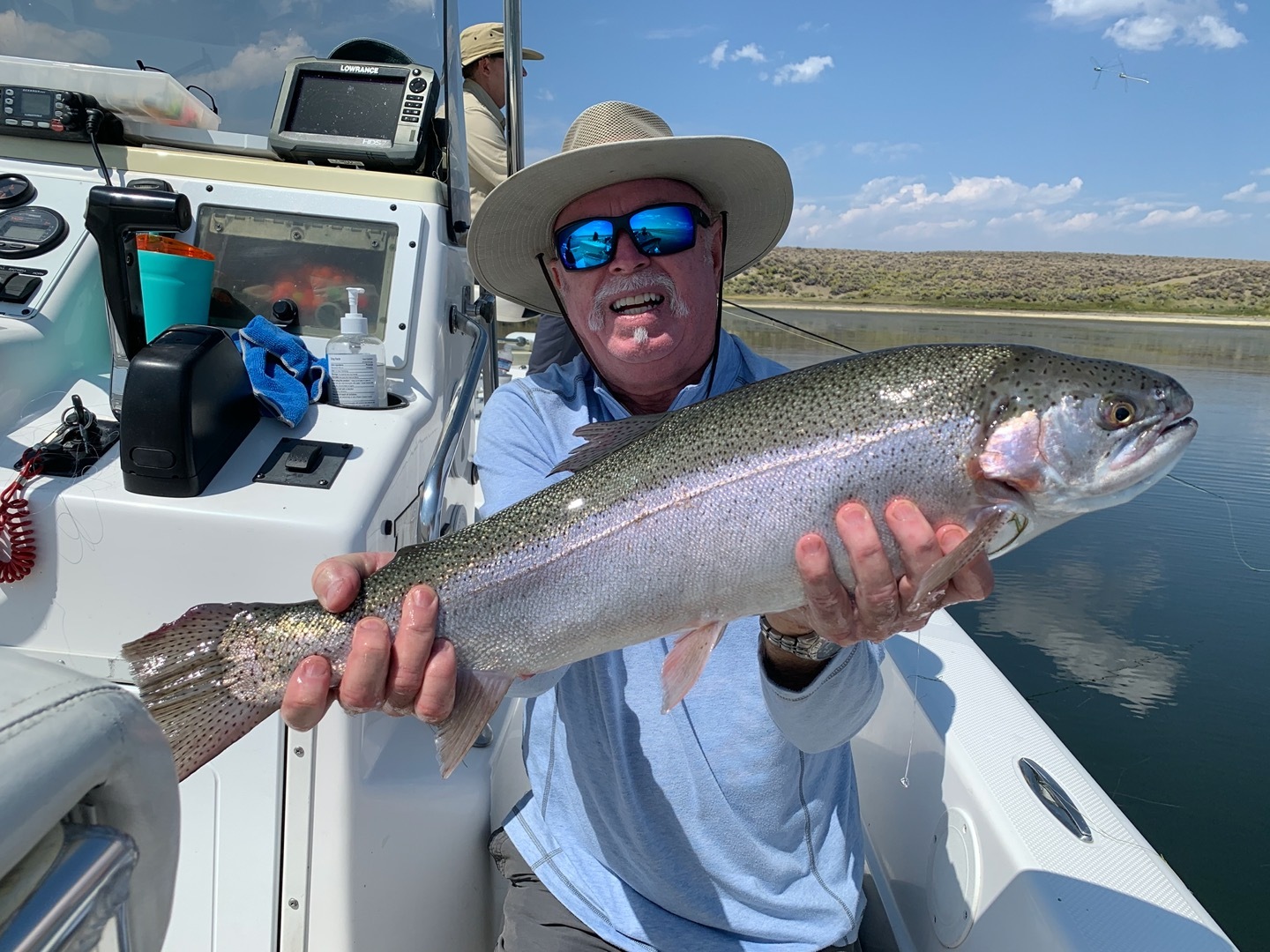 Photo Credit: Courtesy of Sierra Drifters
by Doug Rodricks
9-1-2020
(760) 935-4250
Website

Hello Anglers,
September is now here and of course, this is one of the prime months for fishing in the area. The weather has been quite pleasant for these late summer days as we have been not too hot and not too cold. Some light breezes in the afternoons have been just what is needed to make for perfect temperatures and excellent fishing conditions.
Although half the state of California is burning, we have had some smoke blow in from these outside fires. This is common for the summer months for us here in the high country, but this year has been different. Although there has been smoke off and on, depending on the day and the wind direction, it has not been an air quality factor to where the smoke has been settling in the Long Valley area.
The star of the show has still been Crowley Lake, which continues to give up some really nice quality fish, and some days we are seeing huge numbers too. 
The fish are now feeding on some larger perch fry that have reached 2" in length, and these larger food sources are what grow the Crowley Lake trout to their large sizes. Most of the fish have migrated into the major tributary areas and have remained close to the weed beds and transition zones into the muddy bottoms. 
It is a mixed bag right now of fish sizes as we are seeing smaller fish mixed with really big ones. All species are in full feed mode in all areas and they are feeding on everything that is in the lake. Pulling streamers right now can be a real blast with a floating or sink tip line. Working the weed edges is a good way to get into the trout that are cruising the weed lines looking for perch fry. We have been having some big number days on fish these past few weeks as the peak of the bites continues. Opportunities of 40 – 60 fish days are not uncommon now.
This year I have noticed many families that have contacted us and wanted to learn to fly fish. Many of these customers had never done any or very little fishing in their lifetime and did not really know much about fly fishing. We have introduced fly fishing to many complete beginners this year and most of these have been families with small children. After their trips with us, they all left pleasantly surprised at how easy it is to learn and shocked at the size and numbers of fish they all caught. Many of them have let us know they plan on returning and making fly fishing a part of their family vacations with us. We have been pleased to see that a not so fun pandemic for all which has brought much frustration does have a silver lining in allowing people to experience something new.
The lake continues to drop daily and the flats and weed beds are getting shallower. Fish are moving into these areas heavily in the evenings to feed on perch fry and midges, and with the light boat traffic at these times of the day, there is some great fishing to be had.
We are continuing on with a record-breaking summer for guiding and our September dates are filling faster than before. Please consider this if you are planning a future trip. It is better to reserve you trip with us now and not scramble at the last minute trying to find an available guide. Fill out one of our trip request forms here to inquire about open dates and we will get back to you promptly and let you know if we have availability.
It is still left to be seen if the crowds will thin out this fall as they typically do on most normal years. Yes, the kids are back in school, but most are learning from home online and that means that families can still travel since online schooling is widespread. There has been some decrease in traffic in the area, but I think it will not be as light as previous years.
The Upper Owens hopper hatch is still going while the last of the hoppers continue their growth. With very clear and low water now and these fish seeing plenty of every hopper pattern you can imagine thrown to them by fly anglers, they have become very selective. Switching back and forth from nymphs to dry flies is a good strategy now, so having a couple of rods rigged up is a good call. 
Hot Creek fishing has been good with nymphing small bugs and dry dropper setups. Pick a spot with fish in it and stick it out. You will need to find the right fly that they are feeding on at any particular part of the day. The best times have been during the surface bites mid-day, mornings, and evenings. Presentations must be right on without any drag on your fly, especially when fishing size #20 and smaller bugs.
The East Walker River has been fluctuating in water level but is holding at a fishable level. It is currently below 100 cfs, so looking out for the deeper holes will tend to have the bigger fish right now. Some of these fish will move into the shallower water during the low light periods. Nymphing and dry fly fishing during the rise periods is best. Streamer patterns pulled through the deeper areas will also spark the interest of some of the larger fish. The rocks are slippery with the algae this time of year, so take your time when wading around here. 
Please be sure to check out our website to purchase flies and get up to date information throughout the month. 
The Crowley Lake General Store & Deli ( full selection), Reagan's Sporting Goods in Bishop (full selection),   Stroud Tackle in San Diego (full selection), Fisherman's Spot in Van Nuys (seasonal top patterns), Bridgeport Reservoir Marina -(full selection)  Ricks Sport Center in Mammoth Lakes (seasonal- top patterns only). Eagle Lake RV and store. (seasonal- top patterns) and Fly and Field Outfitters in Bend, Oregon (seasonal top patterns)
Visit our website for more information on fly fishing and some additional resources. You can purchase our flies here, forget about the hassle of leaving the house, and opt for our delivery to your door. Fill out one of our trip request forms here to get in on some of the great fishing action we have been experiencing. If you are planning a trip to the area and plan on going on a guided trip with us, you will definitely want to book sooner than later as our days are filling at a faster rate than usual this year. 
Visit us on Facebook, Instagram, and YouTube.
Fill out one of our trip requests here and we will get in contact with you to book a guided fly fishing outing.
< Previous Report
Next Report >
< Previous Report
Next Report >
More Reports
Sierra Drifters Reports
for Tuesday, September 1st, 2020

Crowley Lake
:
Crowley Lake Fishing Report
East Walker River (CA)
:
Flows Are Fluctuating a Little Upward and a Little Downward
Owens River - Section 3 - Upper (above Crowley)
:
Fish Are Getting Selective With Hoppers, Try Stimulators
Hot Creek
:
Some Great Dry Fishing Going On
Owens River - Lower
:
High Flows & Hot Weather
Sierra Drifters Reports
for Friday, August 21st, 2020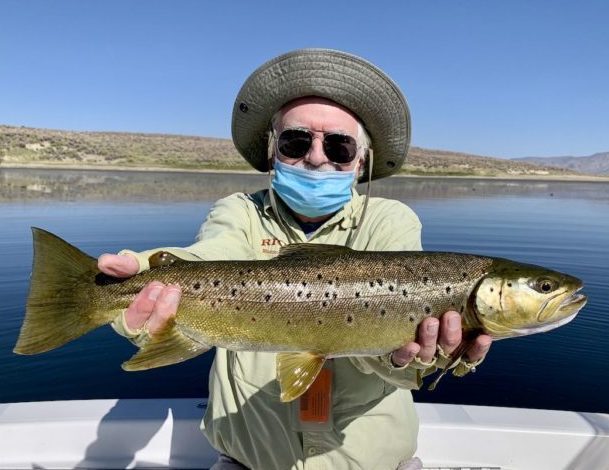 East Walker River (CA)
:
Flows Are Dropping and Water Temps Are Increasing
Owens River - Section 3 - Upper (above Crowley)
:
Hoppers Are Thick Still But Fish Are Getting Choosey
Hot Creek
:
Some Great Dry Fly Fishing Has Been Taking Place Daily
Owens River - Lower
:
High Flows and Hot Weather
Crowley Lake
:
Fun Fishing With Short Leaders
:
Sierra Drifters: Fish N' Conditions
www.EasternSierraFishReports.com © 2023. All Rights Reserved.
Website Hosting and Design provided by TECK.net