Eastern Sierra Fish Report
Fish Report for 8-21-2020
Sierra Drifters: Fish N' Conditions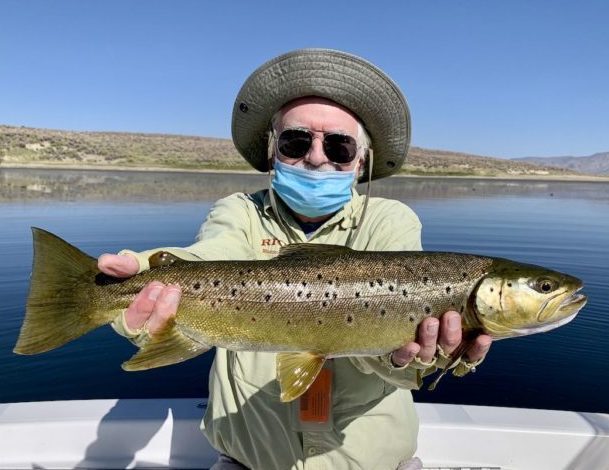 Ian always makes the fishing report, this time with a nice brown trout while fishing with Jerry.
Photo Credit: Courtesy of Sierra Drifters
by Doug Rodricks
8-21-2020
(760) 935-4250
Website

While southern California has been experiencing extremely hot temps, the eastern sierra has been nothing short of perfect. If it gets too hot up here, the afternoon thundershowers roll in and provide some cloud cover and some rain to cool things off. Fishing has been good in most areas and of course Crowley Lake continues to produce the best quality and numbers of fish. Not surprising considering the August and September are some of the best months on the lake. Fish can be found in extreme shallows in the early mornings and they are seeking out the cooler water of the creek and river channels. Midges, perch, damsels, and callibaetis are all fair game now. Upper Owens River is still good but getting very crowded. This has been a record year for travelers to the area, and you can guess why. More first time fly fishers and families that are interested in fly fishing have made the leap to give it a shot. Our guides have enjoyed putting newbies on fish this season and sharing their passion of fly fishing with everyone. Hot Creek still good with dry flies and hoppers when the wind picks up. East Walker River flows are dropping as water warms up. Better times here are the early morning hours and late evenings. San Joaquin flows have dropped and a few more weeks of good fishing can be had here with dry flies. Lower Owens River flows up high and the weather is cooking. Better fishing up the hill currently.
Crowley Lake 
It's no secret that the upcoming months will be some of the best fishing on the lake. With most fish being caught in shallow water, it has been fun fishing with short leaders. The streamer bite has also picked up along the weed edges and in the channels. It's an all day bite here when you can stay on the fish. Location and depth play a big part in getting bites throughout the day. Some days the fish are on midges and others on bigger meals. Many fish are full of daphnia, but that is not a problem with so many different types of feed available to them. Water temperatures have been playing a role in feeding behavior, so keep an eye on that. Surface temps have been hitting over 70 degrees during the afternoons.
#12-16 Parallel Punk Perch Dark and Light, #16 Parallel Assassin Light, #14-18 Assassin Dark, #16 Parallel Assassin Dark, #16-20 Crystal Copper Tiger Midge, #18-22 Crystal Tiger Midge Long, #18-22 Crystal Chironomid Emerger Black, #18-22 Gillie light and dark pupa, #14-16 Level Leech, and Damsel Nymph dark and Light.
Lower Owens River/Wild Trout Section (Bishop Area) 
High flows and hot weather warrant fishing elsewhere till conditions improve.
Best Flies: Spruce-a-Bu #8 Light and Dark, Loeberg #10 all colors, Agent Orange #8-10, Crystal Leech #8-10, Punk Park dark and light #8-12, Flashback PT #16-18, Copper Tiger Midge #18-20, San Juan Worm Brown #14, Crystal Caddis Larva #18
Hot Creek 
Some great dry fly fishing has been taking place daily. As more grasshoppers start to mature, the fish are not overlooking them as they were last month. Don't be timid about throwing some larger patterns that represent the hoppers. You many also have to go extremely small at times to imitate the tricos and micro midges. The mayfly nymphs are also incredibly tiny and the fish are keying in on them as they dislodge from the weeds.
Best Flies: Flashback PT's #16-#20, Tricos Spinners #20-22, SD Crawlers in Red #14, Copper Tiger Midges #18-20, and #18 Assassin Dark, Tangerine Opaque, Kiwi Flash, and Apricot Flash Otter Eggs have been excellent.
San Joaquin River 
Flows have dropped, but fishing is still decent. Hit the deeper pools for some good dry fly action.
Upper Owens River
Hoppers are thick still but fish are getting choosey. Matching the hatch is getting important now along with the right size and color hopper. Throwing other mayfly and caddis patterns throughout the day will also get takes.
Best Flies: Stimulator – 12, 14, 16; Crystal Copper Tiger Midge – 16,18; B100FB – 14, 16, 18, 20; Spruce a bu dark and light; Loeberg Mallard Silver; Loeberg Guinea Silver, Crystal Midge Pupa Black – 18; Crystal Chironomid Emerger Copper – 16, 18; Broken Back Copper Tiger Midge – 14,16,18, Tangerine Opaque, Tangerine Red Flash, Kiwi Flash and Flamingo Otter Eggs.
This is a year around fishery with special regs in place. We walk and wade guide here.*Doug Rodricks, Doug Dolan, Hans Grotewold, and Devin Preston are under permit from the Inyo National Forest Service to guide Hot Creek.
East Walker River 
Flows are dropping and water temps are increasing. Fish in the faster riffles in the early and late parts of the day. Let the fish rest during the mid-day heat.
Best Flies: B100FB – 18, 20; Crystal Copper Tiger Midge -16; Crystal Zebra Midge – 16, 18; Punk Perch Light and Dark – 14, 16; Parallel Punk Perch Light and Dark; Crystal Leech – 12, 14, 16; Agent Orange 12, 14, 16; Parallel Agent Orange – 14, Spruce-a-bu Dark and Light, Eggs: Tangerine Red Flash, Dead Egg, Tangerine Opaque, Flamingo.
< Previous Report
Next Report >
< Previous Report
Next Report >
More Reports
Sierra Drifters Reports
for Friday, August 21st, 2020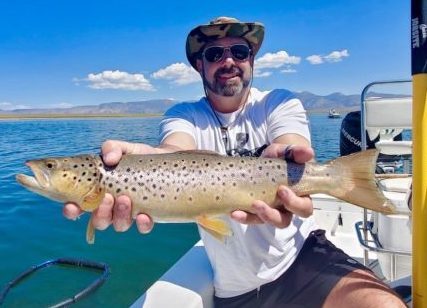 East Walker River (CA)
:
Flows Are Dropping and Water Temps Are Increasing
Owens River - Section 3 - Upper (above Crowley)
:
Hoppers Are Thick Still But Fish Are Getting Choosey
Hot Creek
:
Some Great Dry Fly Fishing Has Been Taking Place Daily
Owens River - Lower
:
High Flows and Hot Weather
Crowley Lake
:
Fun Fishing With Short Leaders
Sierra Drifters Reports
for Wednesday, August 5th, 2020

East Walker River (CA)
:
Flows Have Remained Stable
Owens River - Section 3 - Upper (above Crowley)
:
Crazy Hopper Time Here
Hot Creek
:
Great Dry Fly Fishing Going On
Owens River - Lower
:
Edges of The River Are Fishing Best
Crowley Lake
:
Crowley Lake Fishing Report
:
Fish N' Conditions
www.EasternSierraFishReports.com © 2023. All Rights Reserved.
Website Hosting and Design provided by TECK.net