Eastern Sierra Fish Report
Lake Sabrina Fish Report for 8-31-2020
Lake Sabrina Weekly Report
Lake Sabrina - Bishop, CA (Inyo County)
by Lake Sabrina Boat Landing Staff
8-31-2020
Website

SLOW DOWN – WHETHER IT BE THRU OUR TOWNS OR ON A STAIGHT-AWAY OR UP A MOUNTAIN ROAD –JUST SLOW DOWN!!!
AS FAR AS WE KNOW NOW, 8-31-20 @ 10:00 am,
WE ARE STILL OPEN AS ARE THE
CAMPGROUNDS AND HOTELS
Getting dark later in the morning and getting dark earlier in the evening – this could only mean – FALL is on the way. There's a bit of color showing across from the Café in Jack's Bay and along the Blue Lake Trail. Oh and it's getting a bit quieter during the week – the weekends are still very busy, but things are quieting down a bit in the Canyon. Now's the time to head to the Lake! Also, check out our Fall hours that begin on Tuesday, September 8, 2020 below.
Fishing remains great, catching is still on the slow side and that's after two out of state hatchery stockings - yup, got the Idaho fish from Wright's Rainbows on Wednesday. Patience is still the name of the game. So if you're trolling lead-core try going down 6-7 colors. If you're fishing the Inlets, try NightCrawlers, PowerBait and Jigs. If you're out in a boat, fish around the rock piles or over the shorelines between the two natural lakes. If you're in a boat – WATCH OUT FOR BUOYS – they mark the shallow rocks. Had a pontoon run over a buoy and hit a rock that stopped them dead in the water (all is good). Fun times.
Pete Gonzales took fellow vet Clark out for a bit of fishing and Clark ended up landing a 2-pound Brown using a NightCrawler. Jeremy Smith worked a jig to catch his 2-1/4 pound Rainbow. Eric and Jerry Burden along with Bill Dowling drowned some NightCrawlers to catch their dinner and make some awesome memories.
A huge THANK YOU to the Mahoney Family who picked up 3 huge bags of trash around the Lake. Their only comment was "we picked up trash in one area – moved to another – came back an hour later and there was even more trash". PICK UP YOUR DAMN TRASH!!!!!!!!!!!!!!!!!!!!!!!!!
Had a bit of wildlife in the area this week – Coyotes' went off Friday morning around 5am – quite a morning wake-up call. Also, we think we had a mountain lion just above the trail by our 5th wheel moving quick and stealthy on Thursday evening – dogs all went off big time to that smell and sound. We have an Osprey hanging around lately and don't forget the Bald Eagles at the back of the Lake – take a gander toward the heavens ever once in a while – never know what you might see – maybe even a Great Blue Heron (it landed on the rock pile closest to the Café). There were also at least three deer hit on the road between BitterBrush and Aspendell – SLOW DOWN!!!!!!!!!!!!!! The fish aren't going anywhere!
The first of many cement mixers turned around in the parking lot Thursday to start pouring the footings on the auxiliary spillway. They put the mixer down by the trail head – put some concrete in a bucket – had a pettibone transport the bucket to the excavator that then put the bucket in the right place to deliver the concrete to the footing area. We're still wondering what all the scaffolding is for – so stay tuned.
FALL HOURS
Starting Tuesday, September 8, 2020
Monday thru Thursday – 8:00am to 6:00pm
Friday thru Sunday – 7:00am to 7:00pm
Breakfast is available for take-out from Opening to 11:00am.
Homemade Pie and Homemade Vanilla Ice Cream is available for take-out from Opening to Closing.
THESE COMMENTS ARE STAYING PUT:
Pooping around the Lake has become another problem – please stay at least 200 feet from the Lake, Inlets, Creeks or Trail and bury your TP – it's getting disgusting out there. Better yet – get a wag bag and pack it out!
Fishing etiquette is once again becoming a bit of a problem at the Lake and we don't like problems. If you come upon someone fishing, please don't fish right next to them – take a bit of hike farther down and don't cast over into their spot. Same at the Inlet, there are so many areas to fish on this Lake go find another 'soon to be' favorite spot. This is also an addition by one of our customers - "If you have your boat pulled all the way into the Inlet and are hogging the whole inlet how about leaving after everyone in your boat has caught 5 to 10 fish so that others can have a chance. The inlets aren't as big as last year due to the reduced water flow and when you hog the whole inlet for 3 hours while everyone in the boat catches MORE than their limit its pretty rude. We all know that there is a whole big wide lake out there and lots of room but when people are being polite and waiting for inlet access it's pretty rude to hog it for the whole afternoon."
Also, DON'T FORGET TO PICK-UP YOUR TRASH!!!
< Previous Report
Next Report >
< Previous Report
Next Report >
More Reports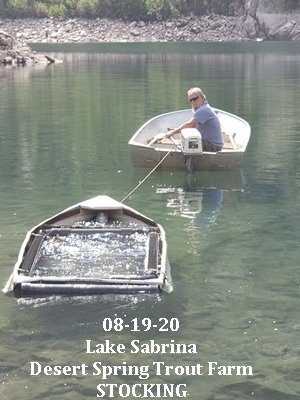 8-25-2020
Now some GREAT news! We got our stocking from Desert Spring Trout Farm out of Oregon on Wednesday and Wright's......
Read More
8-16-2020
Some good news! Our permit to stock Desert Spring Trout from Oregon has been approved, now we're waiting to see......
Read More
www.EasternSierraFishReports.com © 2020. All Rights Reserved.
Website Hosting and Design provided by TECK.net