Eastern Sierra Fish Report
Lake Sabrina Fish Report for 9-7-2020
Lake Sabrina Report- Currently Closed
Lake Sabrina - Bishop, CA (Inyo County)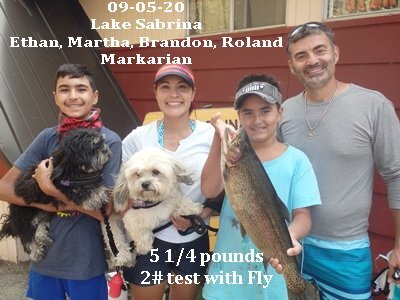 Photo Credit: Courtesy of Lake Sabrina Staff
by Lake Sabrina Boat Landing Staff
9-7-2020
Website

The Inyo National Forest is currently closed until at least Sept 14, 2020
No Camping, No Dispersed Camping, No Hiking, No Fishing
LAKE SABRINA BOAT LANDING IS CURRENTLY CLOSED
SLOW DOWN
WHETHER IT BE THRU OUR TOWNS OR ON A STAIGHT-AWAY OR UP A MOUNTAIN ROAD
JUST SLOW DOWN!!!
Don't forget a jacket
Another interesting week at the Lake – a stocking from Department of Fish and Wildlife – Moccasin Hatchery up by Sonora, smoky conditions, a very busy Labor Day weekend, a bit of cooler weather and the shutdown of the Inyo National Forest. With that National Forest shutdown, that meant businesses operating on a Forest Service permit needed to close. So we are currently closed at Lake Sabrina Boat Landing until at least September 14 as is all recreation in the Inyo Nation Forest – no camping, no dispersed camping, no hiking and no fishing.
Now you would think that with 3 stockings the catching part of fishing would be taking off – it's not. It's picking up a bit, but it's still not where it should be – might just be the water is a tad too warm and they are down deep. NightCrawlers were still the ticket tho – also, fishing those rock piles or by the rock slide were bringing in a few fish.
Brandon Markarian said 'that fish just teased me for 3 solid hours – finally got him on a 2# leader with a pink fly thing with a white head' – good job landing the 5-1/4 pounder, Brandon! Don't know many girls that go fishing with pretty dresses, but sisters Demi and Maleah Coloma did and brought in dinner for the family – they caught more than just the one pictured using NightCrawlers. Vincent Garcia and Ernie Ortiz teamed up to catch some fish for dinner using NightCrawlers and made some memories to boot.
Once we are allowed to open, we will go to our Fall hours. Can't believe how all of a sudden it's darker in the morning and by 7:30 in the evening it's pretty dark too.
FALL HOURS
Starting when we can open again!
Monday thru Thursday – 8:00am to 6:00pm
Friday thru Sunday – 7:00am to 7:00pm
Breakfast is available for take-out from Opening to 11:00am.
Homemade Pie and Homemade Vanilla Ice Cream is available for take-out from Opening to Closing.
Here is the US Forest Service Notice regarding the closure:
Forest Service Temporarily Closes Southern California National Forests, Adds Prohibitions in Others
VALLEJO, Calif., September 7, 2020 – Most of California remains under the threat of unprecedented and dangerous fire conditions with a combination of extreme heat, significant wind events, dry conditions, and firefighting resources that are stretched to the limit. Due to these conditions, the USDA Forest Service Pacific Southwest Region is announcing the following temporary closures and fire restrictions to provide for public safety and reduce the potential for human caused fire starts. They will go into effect at 5:00 pm Pacific Standard Time on Monday, September 7, 2020, and will be re-evaluated daily as conditions change.
1. Closure of the following National Forests: Stanislaus National Forest, Sierra National Forest, Sequoia National Forest, Inyo National Forest, Los Padres National Forest, Angeles National Forest, San Bernardino National Forest, and Cleveland National Forest.
2. Prohibition of the use of any ignition source on all National Forest System lands (campfires, gas stoves, etc.) throughout California.
3. Closure of all developed campgrounds and day-use sites on National Forests in California.
"The wildfire situation throughout California is dangerous and must be taken seriously. Existing fires are displaying extreme fire behavior, new fire starts are likely, weather conditions are worsening, and we simply do not have enough resources to fully fight and contain every fire," said Randy Moore, Regional Forester for the USDA Forest Service Pacific Southwest Region. "We are bringing every resource to bear nationally and internationally to fight these fires, but until conditions improve, and we are confident that National Forest visitors can recreate safely, the priority is always to protect the public and our firefighters. With these extreme conditions, these temporary actions will help us do both."
An example of extreme fire behavior is the Creek Fire on the Sierra National Forest which began on Friday Sep. 4th and grew rapidly on Saturday, Sep. 5th. The fire made a 15-mile run in a single day and burned 36,000 acres, prompting evacuations and life saving measures. The California National Guard evacuated at least 200 people from Wagner Mammoth Pool Campground and assessed them for medical needs.
The Forest Service thanks our partners and the public for their cooperation and understanding of this monumental fire threat. It is critical that all Californians and national forest visitors follow these important closures and restrictions for their own safety and the safety of our firefighters.
The Forest Service manages 18 National Forests in the Pacific Southwest Region, which encompasses over 20 million acres across California, and assists forest landowners in California, Hawaii and the U.S. Affiliated Pacific Islands. National forests supply 50 percent of the water in California and form the watershed of most major aqueducts and more than 2,400 reservoirs throughout the state. For more information, visit www.fs.usda.gov/R5.
THESE COMMENTS ARE STAYING PUT:
Pooping around the Lake has become another problem – please stay at least 200 feet from the Lake, Inlets, Creeks or Trail and bury your TP – it's getting disgusting out there. Better yet – get a wag bag and pack it out!
Fishing etiquette is once again becoming a bit of a problem at the Lake and we don't like problems. If you come upon someone fishing, please don't fish right next to them – take a bit of hike farther down and don't cast over into their spot. Same at the Inlet, there are so many areas to fish on this Lake go find another 'soon to be' favorite spot. This is also an addition by one of our customers - "If you have your boat pulled all the way into the Inlet and are hogging the whole inlet how about leaving after everyone in your boat has caught 5 to 10 fish so that others can have a chance. The inlets aren't as big as last year due to the reduced water flow and when you hog the whole inlet for 3 hours while everyone in the boat catches MORE than their limit its pretty rude. We all know that there is a whole big wide lake out there and lots of room but when people are being polite and waiting for inlet access it's pretty rude to hog it for the whole afternoon."
Also, DON'T FORGET TO PICK-UP YOUR TRASH!!!
Here is the forecast for the week from www.weather.gov (enter Aspendell, CA in the search and scroll down to see the temps).
< Previous Report
Next Report >
< Previous Report
Next Report >
More Reports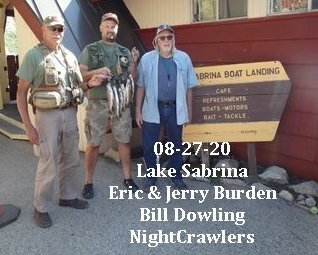 8-31-2020
SLOW DOWN – WHETHER IT BE THRU OUR TOWNS OR ON A STAIGHT-AWAY OR UP A MOUNTAIN ROAD –JUST SLOW......
Read More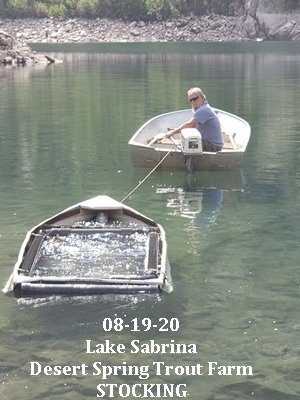 8-25-2020
Now some GREAT news! We got our stocking from Desert Spring Trout Farm out of Oregon on Wednesday and Wright's......
Read More
www.EasternSierraFishReports.com © 2020. All Rights Reserved.
Website Hosting and Design provided by TECK.net