Eastern Sierra Fish Report
Lake Sabrina Fish Report for 10-1-2018
Lake Sabrina Boat Landing Report.
Lake Sabrina - Bishop, CA (Inyo County)
by Rick, Patti, Juanita and Jerrod
10-1-2018
Website

The Cafe closes for the season this Sunday, October 7, 2018. Lake Sabrina Boat Landing will close for the season at 1:00pm on Sunday, October 14, 2018. Fishing season closes on November 15, 2018 at midnight. It's sounding like Camp Sabrina, North Lake and Willow campgrounds will close about October 7th, but that may change with the weather.

What an absolutely beautiful week at the Lake until Saturday, then in came the wind and just like that a lot of the leaves were gone. Come Tuesday there's a good probability a lot more will be gone – a bit of rain and some talk of the white stuff above 7000' – 4" to 8" - it's that time.

Catching picked up a bit with a few larger fish coming out. Those that were catching were using the tried and true NightCrawler or Mini-Jigs. Some even went old-school and brought out the flashers and a NightCrawler – Dave Davis' to be exact and scored some nice fish for dinner.

Jack Deveny used a Thomas Buoyant to bring in his 2 pounder. It took three Steven's Boys to land their 2-1/4 Rainbow – Tyler, Jacob and Dad Matt. Eight year old Jameson Merson made his Dad proud by catching a 2-1/4 beaut! And old school anglers and close friends, Keith Kirtley (all the way from North Carolina) and Richard Swanson used a Dave Davis and a NightCrawler to bring in limits and dinner, not to speak many, many more memories made.

So that wind we've had for the last few days will bring in the cooler weather of Fall along with some wetness from the hurricane down south – just not sure if the wetness will be in the form of drops or flakes (we're thinking drops, but you never know – just know it's probably going to feel cold). Temps look to be wavering between the low 50's to upper 40s for highs, but add in a bit of a breeze, well then you know. The lows are pretty much in the mid to low 30s. Now the moisture – 60% chance on Tuesday and Wednesday, then we're looking at a bit of wet coming back next Saturday and Sunday with a 20% on Saturday and 40% on Sunday. PACK YOU WOOLIES AND RAINGEAR. You can check out the forecast for the week at www.weather.gov (enter Aspendell, CA in the search and scroll down to see the temps).

Yup, Rick and I were tourists out on the Lake – couldn't resist being a photographer, too! Had a visit from both an Eagle and Osprey while we were out cruising. One of the most beautiful days I've ever enjoyed out on the water – hope you enjoy some of the colors.

These items below still pertains:

We've had quite a few questions in regards to Fall Colors. Here is a letter our Bishop Chamber of Commerce has shared with us regarding the changing colors of the leaves:

Dear Fall Color Leaf Peeper:

This is a response to your inquiry about when do fall colors happen?

This is tough to predict on any given year. Much is dependent on how low temperatures go down up in the high country. Aspens have a biological clock geared toward day length and nighttime temperature. Typically with the weather getting warmer, it seems that fall colors in the high country now begin in early September, maybe a bit earlier. Generally, the first week or two of October is a good bet to come up for the high country colors but there are no guarantees with nature.

Typically, the trees will lose their leaves in later October as color comes down into the valley extending the fall colors season into November. But an Indian Summer can extend high country foliage longer. Wind plays a role as well in how fast the leaves come down.

Attached is a link to our fall colors guide which will be quite helpful to answering your questions:
https://www.bishopvisitor.com/wp-content/uploads/2017/09/FallColorMap2017.pdf
In general and if you can, it is suggested you tap into the following links which will give you real time fall colors information:

http://www.californiafallcolor.com/

http://www.monocounty.org/fall-colors/

I would recommend you stop at our chamber office when you come to town. It can save you some time since we attempt to keep up with everything we can. We are located at 690 N. Main, in the A frame building across from Carl's Junior Drive In. When you are here, take a few minutes to look at an awesome new book entitled California Fall Color. I have read it and it is outstanding! It guides you to the fall color locations along highway 395, Yosemite, and around South Lake Tahoe. It is the best book out on the topic. We will have a display copy available for guests to mull over.

Our website is [www.bishopvisitor.com%20]www.bishopvisitor.com if you need additional information about the area.

If you need anything else, let us know.

Joe – Guest Host
Fishing etiquette is once again becoming a bit of a problem at the Lake and we don't like problems. If you come upon someone fishing, please don't fish right next to them – take a bit of hike farther down and don't cast over into their spot. Same at the Inlet, there are so many areas to fish on this Lake go find another 'soon to be' favorite spot.

People, sure would be nice if y'all would pick up your trash when you leave. It's really not that hard. Just sayin! If you need something to put it in, come into the store and we'll give you a bag.

If you're in town having a drink or two on a Friday or Saturday – please don't drive – take Dial-A-Ride – Call 760-873-7173 or 761-872-1901 x22 for a bus. Nite-Rider will be operating Friday and Saturday from 6pm to 2:30am and on Sunday from 6pm to 12am. The price each way is $4.25 and kids, teens & Seniors are $3.60. Please no drinking and driving!!!

And the hiking conditions:
If you're hiking stay safe out there. CHECK THE WEATHER FORECAST FROM HERE ON OUT AND BE PREPARED FOR ANYTHING!!! Remember to leave a note about your destination and approximate return time and a clothing description. And please hike with a buddy!

Things to do when you're not at the Lake:
Owens Valley Radio Observatory
October 1st, 1-2pm in Big Pine
See the "Big Ears" up close and learn all about the Owens Valley Radio Observatory. Held the first Monday of every month from 1 PM to 2 PM. Contact Dr. Mark Hodges for info at 760-938-2075 (Ext 109).
***************************************************
Fall Colors Cruise and Car Show
October 5th-7th at the Tri-County Fairgrounds
Come check out beautifully restored classic cars as they cruise amidst the beauty of fall at the Fall Colors Cruise and Car Show. This event will delight classic car lovers, photographers and people of all ages. Come appreciate the beauty and craftsmanship of these restored 1974 and older classics, street rods, customs, trucks, and special interest vehicles - and maybe take one home!
Owens Valley Cruisers Car Club Website
***************************************************
Choo-Choo Swap Meet
October 6th at the Tri-County Fairgrounds
Visit nearly 100 vendors at one of the largest and most unique swap meets in all of California. Discover the "find" amongst antiques, vintage clothing, one-of-a-kind treasures from across the Eastern Sierra and Nevada! Gates open at 8:30 am, Tri-County Fairgrounds in Bishop. Admission is $3 per person, children under 12 are free. Arrive early to find the best selection! Proceeds benefit the Laws Railroad Museum.
*************************************************
Annual Altrusa Art Show
October 6th, 9am-4pm in the Tallman Pavilion at the Tri-County Fairgrounds
The Altrusa Art show features beautiful artworks from Eastern Sierra artists in support of Altrusa International. Altrusa is a not-for-profit service association dedicated to improving our communities through leadership, partnership and service. The organization focuses on the promotion of literacy and health in disaster areas.
************************************************
Lone Pine Film Festival
October 5th - 8th
The Lone Pine Film Festival is the destination for Western film lovers. This year's 29th Lone Pine Film Festival will celebrate the cultural, cinematic and technical contributions of William Fox and the Fox Film Corporation, authors Vanda Krefft and Scott Eyman, as well as Ben Mankiewicz from TCM. Events include an opening gala, screenings of original, historic and documentary films, tours of filming locations such as Alabama Hills, celebrity guests, , a rodeo, shoot-outs, Sunday Parade, Sunday Night Campfire, and much more!
************************************************
VCMC Dual Sport Rally
October 12th - 14th
Enjoy over 800 miles of varied, technical loop terrain with unmatchable scenery during the fall ride hosted by Ventura County Motorcycle Club! This 12th annual event include opening chili dinner, Saturday night BBQ, and endless, varying terrain to explore and ride!
************************************************
2nd Annual Harvest Celebration
October 13th, 9am-3pm
Owens Valley Paiute-Shoshone Cultural Center
This The Harvest Celebration highlights both locally grown and traditional indigenous foods through cooking demonstrations and tastings. There will be a potluck lunch, native craft fair and cooking competitions with prizes. Bishop Paiute Tribe's Food Sovereignty Program hosts this event as well as Thursday Community Markets from 5-8pm throughout October. For more information, contact Gaylene Kinzy (760)784-4782 or email at gaylene.kinzy@bishoppaiute.org.
**************************************************

Important stuff that just stays in the report for a bit:

PRIVATE BOATERS: Please don't overload your boats – it causes us great distress!!! USE YOUR NOGGIN!

Spoke to the local Department of Fish and WildLife Game Warden regarding fisherpeople needing to have their own stringers and up to five fish per stringer. His response is – "It is highly recommended, but not required, but everyone better be present if I'm checking".

If you catch a big fish or a limit just to have your picture taken for the webpage and then try and give your fish away – we won't post your picture, but then again we may post it as 'WASTER OF A PERFECTLY GOOD FISH TO EAT'! Crimp down your barbs, take a picture on the boat and release it for another day.

When using the bug juice or hand sanitizer or sunscreen or lotion or cologne or perfume, try not to get it on your hands – you'll transfer it to your bait and the fish just don't like any of that foo-foo stuff. Wash your hands in the stream or Lake to get it off, and then use some fish attractant on your hands.

Make sure you wear some kind of sun protection – the sun and reflection off the water will do a number on your skin and eyeballs!

< Previous Report
Next Report >
< Previous Report
Next Report >
More Reports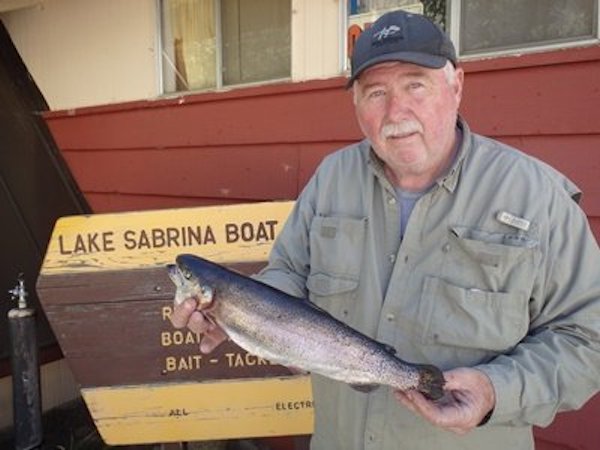 9-24-2018
Due to a scheduled power outage by SCE in the Bishop Creek Canyon on Tuesday, September 25 and Wednesday, September......
Read More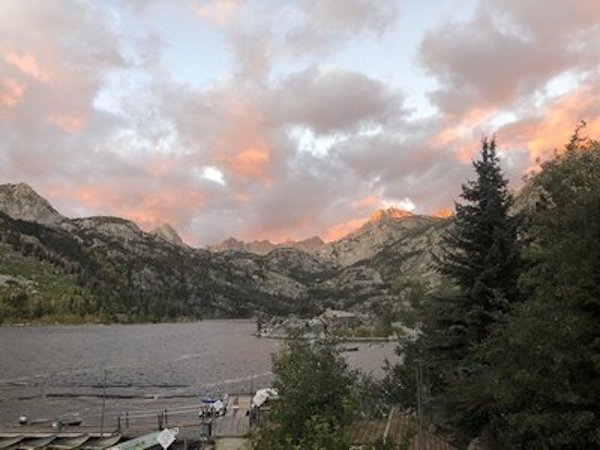 9-17-2018
Yup, things are changing especially the leaves – daily and it's definitely a bit cooler and darker getting up in......
Read More
www.EasternSierraFishReports.com © 2020. All Rights Reserved.
Website Hosting and Design provided by TECK.net