Eastern Sierra Fish Report
Lake Sabrina Fish Report for 9-17-2018
Lake Sabrina Boat Landing Report.
Lake Sabrina - Bishop, CA (Inyo County)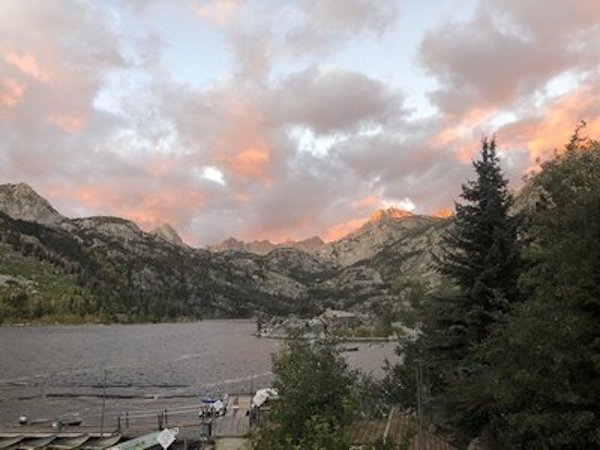 by Rick, Patti, Juanita and Jerrod
9-17-2018
Website

Yup, things are changing especially the leaves – daily and it's definitely a bit cooler and darker getting up in the morning. This week we had wind to contend with. Starting last Tuesday thru Saturday – no boats on the Lake due to some strong south winds. Finally, Sunday we put boats out on a dead calm Lake only to have that blasted wind come up again, so not much fishing or catching out on the Lake this past week.

We took a drive over to the South Lake side of the Canyon Thursday – there are pockets of trees changing color on their side, too and one lone Aspen turned gold amongst the others over by the waterfall. The Tyee's Bridge area also has some good color along the creek. We, also, found some huge ripe Rose Hips – so very pretty and bright red. Also, got a good look at Intake 2, yup, it's low, but still saw a few fisherpeople bringing in fish. It should be back up to normal in a couple of weeks.

We got our last load of Wright's Rainbow from Idaho bright and early on Friday. With the wind, they had a bit of a chance to acclimate and spread out. We've heard of a few larger fish being caught, but haven't gotten any pictures yet. Those that are catching fish are doing so back at DingleBerry Inlet and off the dam by the outflow. NightCrawlers still seem to be working along with Gulp Garlic Worms. If you're trolling, you might want to get down deeper – still thinking the water is a bit warm at the surface for the trouts liking.

Supposedly, the winds are blowing themselves out – maybe a few gusts on Tuesday and then the forecast is for clear sunny days. Temps look to be in the mid 60s thru the weekend with the lows in the low 40s. Layer is the name of the game in the Fall – mornings start off pretty darn cool then it warms up in the afternoon. You can check out the forecast for the week at www.weather.gov (enter Aspendell, CA in the search and scroll down to see the temps).

The items below still pertain:
We now have two Osprey and boy, did they put on a show out in front of the Café before we opened one morning – quite a site. The Eagles are still entertaining boater and hikers in the back part of the Lake. We've also got a good crop of Red Delicious and Yellow Delicious Apples although we did get a bit little brusing from all the hail in July – please don't pick – they're not right yet!

We've had quite a few questions in regards to Fall Colors. Here is a letter our Bishop Chamber of Commerce has shared with us regarding the changing colors of the leaves:

Dear Fall Color Leaf Peeper:

This is a response to your inquiry about when do fall colors happen?

This is tough to predict on any given year. Much is dependent on how low temperatures go down up in the high country. Aspens have a biological clock geared toward day length and nighttime temperature. Typically with the weather getting warmer, it seems that fall colors in the high country now begin in early September, maybe a bit earlier. Generally, the first week or two of October is a good bet to come up for the high country colors but there are no guarantees with nature.

Typically, the trees will lose their leaves in later October as color comes down into the valley extending the fall colors season into November. But an Indian Summer can extend high country foliage longer. Wind plays a role as well in how fast the leaves come down.

Attached is a link to our fall colors guide which will be quite helpful to answering your questions:
https://www.bishopvisitor.com/wp-content/uploads/2017/09/FallColorMap2017.pdf
Spoke to the local Department of Fish and WildLife Game Warden regarding fisherpeople needing to have their own stringers and up to five fish per stringer. His response is – "It is highly recommended, but not required, but everyone better be present if I'm checking".

If you catch a big fish or a limit just to have your picture taken for the webpage and then try and give your fish away – we won't post your picture, but then again we may post it as 'WASTER OF A PERFECTLY GOOD FISH TO EAT'! Crimp down your barbs, take a picture on the boat and release it for another day.

When using the bug juice or hand sanitizer or sunscreen or lotion or cologne or perfume, try not to get it on your hands – you'll transfer it to your bait and the fish just don't like any of that foo-foo stuff. Wash your hands in the stream or Lake to get it off, and then use some fish attractant on your hands.

Make sure you wear some kind of sun protection – the sun and reflection off the water will do a number on your skin and eyeballs!

Cullen's last day was last Saturday – he will be driving a water truck up on Mammoth Mountain helping to make snow this winter.
< Previous Report
Next Report >
< Previous Report
Next Report >
More Reports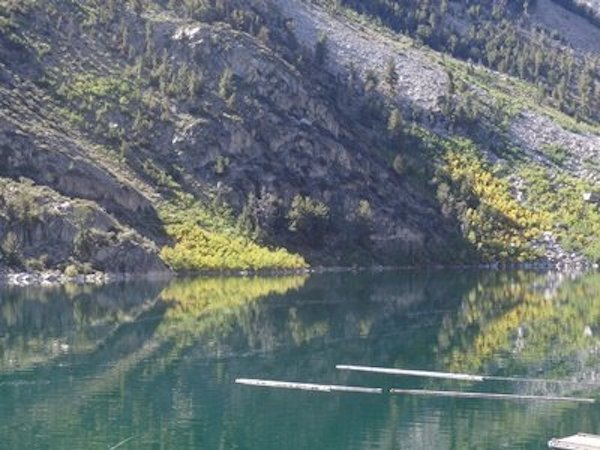 9-10-2018
September is definitely a month of change – cool weather and rain early last week, then mid 70s temps over......
Read More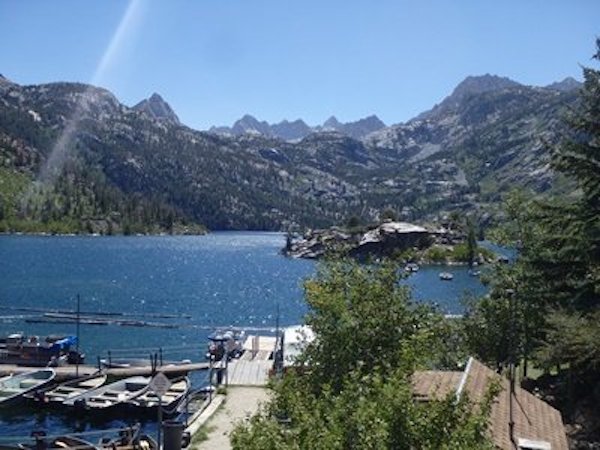 8-27-2018
FREE FISHING DAY – SATURDAY, SEPTEMBER 1, 2018 The days are getting shorter, the Lake's starting to drop, it's a bit......
Read More
www.EasternSierraFishReports.com © 2020. All Rights Reserved.
Website Hosting and Design provided by TECK.net