Eastern Sierra Fish Report
Lake Sabrina Fish Report for 9-24-2018
Lake Sabrina Boat Landing Report.
Lake Sabrina - Bishop, CA (Inyo County)
by Rick, Patti, Juanita and Jerrod
9-24-2018
Website

Due to a scheduled power outage by SCE in the Bishop Creek Canyon on Tuesday, September 25 and Wednesday, September 26, Lake Sabrina Boat Landing will only be renting boats, selling tackle, snacks and cold drinks.
NO Pie or Ice Cream available!
The Cafe will close for the season on Sunday, October 7, 2018. Lake Sabrina Boat Landing will close for the season on Sunday, 14, 2018. Fishing season closes on November 15, 2018 at midnight. It's sounding like Camp Sabrina, North Lake and Willow campgrounds will close about October 7th, but that may change with the weather.
Fall is here – no disputing it! The Lake colors are at their peak and plenty of people enjoyed the yellows, golds, oranges, reds and lime greens ringing the Lake. An absolutely gorgeous week (once the wind had died down).
Fishing is still on the slow side, although we did have a few larger fish come out over the weekend. The best areas to try your luck are back at the DingleBerry Inlet, Little George Inlet, the George Inlet, by the Dam near the outflow area or over across from the Café in Jack's Bay. One angler put on a heavy weight and just went down as far as he could – reeled back up a 2-pounder – so maybe they are deep. NightCrawlers and Jigs were what was catching the larger fish this week.
Mariecela and Isacc Aldana had a great catching experience in these slow days– 8 fish for a total weight of over 13 pounds – all caught using either NightCrawlers or Jigs. Compton Hunting and Fishing Club member, Bill Harmon, went down-deep to capture a 2-1/2 pounder using a NightCrawler. John Joaquin caught a 2 pounder on a Minnow Jig, but friend Mac Martinez caught 2 2 pounder also using Minnow Jigs. And now Norman Furuya has fished over 30 years and finally got into a big fish – a 4-pounder to be exact and also a 2-pounder both on NightCrawlers – it was his time.
Looks like it might be a bit on the breezy side this weekend with maybe, just maybe, a BIG weather change depending on which weather person you listen to. High temps are forecast to be in the mid 60s thru Wednesday, then into the low 70s thru Friday and back into the low 60s and breezy on Saturday and Sunday. Monday is when the BIG change might happen – as Howard would say, 'it all depends on which models you look at'. A chance of the white stuff or maybe just the wet stuff here at the Lake on Monday. Charts show some troughs pulling in moisture from two dying hurricanes coming up from Baja. All that warm water off the coast is letting those systems survive to possibly make it into the San Diego area. In the past systems like that have sent large amounts of rain into the Sierra. Models are off and on showing this making it north to Mammoth. All we can do is wait and see! Lows very from the mid 30s down to the upper 20s thru the weekend. You can check out the forecast for the week at www.weather.gov (enter Aspendell, CA in the search and scroll down to see the temps).
This item below still pertains:
We've had quite a few questions in regards to Fall Colors. Here is a letter our Bishop Chamber of Commerce has shared with us regarding the changing colors of the leaves:
Dear Fall Color Leaf Peeper:
_ This is a response to your inquiry about when do fall colors happen?_
_ This is tough to predict on any given year. Much is dependent on how low temperatures go down up in the high country. Aspens have a biological clock geared toward day length and nighttime temperature. Typically with the weather getting warmer, it seems that fall colors in the high country now begin in early September, maybe a bit earlier. Generally, the first week or two of October is a good bet to come up for the high country colors but there are no guarantees with nature._
_ Typically, the trees will lose their leaves in later October as color comes down into the valley extending the fall colors season into November. But an Indian Summer can extend high country foliage longer. Wind plays a role as well in how fast the leaves come down._
_ Attached is a link to our fall colors guide which will be quite helpful to answering your questions: _ https://www.bishopvisitor.com/wp-content/uploads/2017/09/FallColorMap2017.pdf
_ I am also attaching a nice story on Eastern Sierra fall colors: _ http://www.latimes.com/travel/california/la-tr-d-california-20141005-story.html
_ and video: https://www.youtube.com/watch?v=rwA1QVsbD6g_
_ In general and if you can, it is suggested you tap into the following links which will give you real time fall colors information:_
_ http://www.californiafallcolor.com/_
_ http://www.monocounty.org/fall-colors/_
_ I would recommend you stop at our chamber office when you come to town. It can save you some time since we attempt to keep up with everything we can. We are located at 690 N. Main, in the A frame building across from Carl's Junior Drive In. When you are here, take a few minutes to look at an awesome new book entitled California Fall Color. I have read it and it is outstanding! It guides you to the fall color locations along highway 395, Yosemite, and around South Lake Tahoe. It is the best book out on the topic. We will have a display copy available for guests to mull over._
_ Our website is www.bishopvisitor.com if you need additional information about the area._
If you need anything else, let us know.
Joe – Guest Host
Fishing etiquette is once again becoming a bit of a problem at the Lake and we don't like problems. If you come upon someone fishing, please don't fish right next to them – take a bit of hike farther down and don't cast over into their spot. Same at the Inlet, there are so many areas to fish on this Lake go find another 'soon to be' favorite spot.
People, sure would be nice if y'all would pick up your trash when you leave. It's really not that hard. Just sayin! If you need something to put it in, come into the store and we'll give you a bag.
If you're in town having a drink or two on a Friday or Saturday – please don't drive – take Dial-A-Ride – Call 760-873-7173 or 761-872-1901 x22 for a bus. Nite-Rider will be operating Friday and Saturday from 6pm to 2:30am and on Sunday from 6pm to 12am. The price each way is $4.25 and kids, teens & Seniors are $3.60. Please no drinking and driving!!!
And the hiking conditions:
If you're hiking stay safe out there. Remember to leave a note about your destination and approximate return time and a clothing description. And please hike with a buddy!
Things to do when you're not at the Lake:
All Aboard!
A visit to Laws Railroad Museum and Historical Village is always a treat, but come on a day the train is running and it'll be extra special!
https://www.lawsmuseum.org
Important stuff that just stays in the report for a bit:
PRIVATE BOATERS: Please don't overload your boats – it causes us great distress!!! USE YOUR NOGGIN!
Spoke to the local Department of Fish and WildLife Game Warden regarding fisherpeople needing to have their own stringers and up to five fish per stringer. His response is – "It is highly recommended, but not required, but everyone better be present if I'm checking".
If you catch a big fish or a limit just to have your picture taken for the webpage and then try and give your fish away – we won't post your picture, but then again we may post it as 'WASTER OF A PERFECTLY GOOD FISH TO EAT'! Crimp down your barbs, take a picture on the boat and release it for another day.
When using the bug juice or hand sanitizer or sunscreen or lotion or cologne or perfume, try not to get it on your hands – you'll transfer it to your bait and the fish just don't like any of that foo-foo stuff. Wash your hands in the stream or Lake to get it off, and then use some fish attractant on your hands.
Make sure you wear some kind of sun protection – the sun and reflection off the water will do a number on your skin and eyeballs!
Cullen's last day was last Saturday – he will be driving a water truck up on Mammoth Mountain helping to make snow this winte
< Previous Report
Next Report >
< Previous Report
Next Report >
More Reports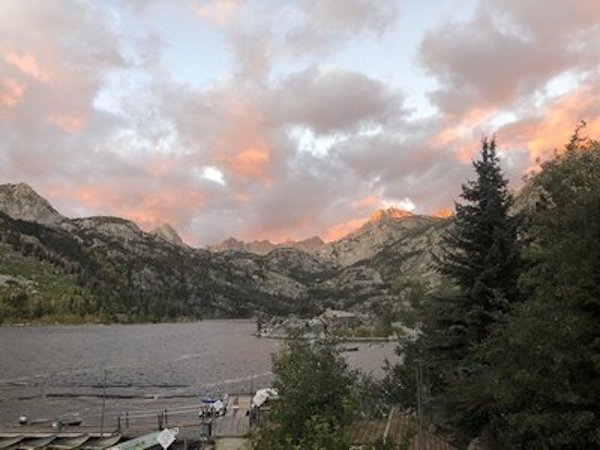 9-17-2018
Yup, things are changing especially the leaves – daily and it's definitely a bit cooler and darker getting up in......
Read More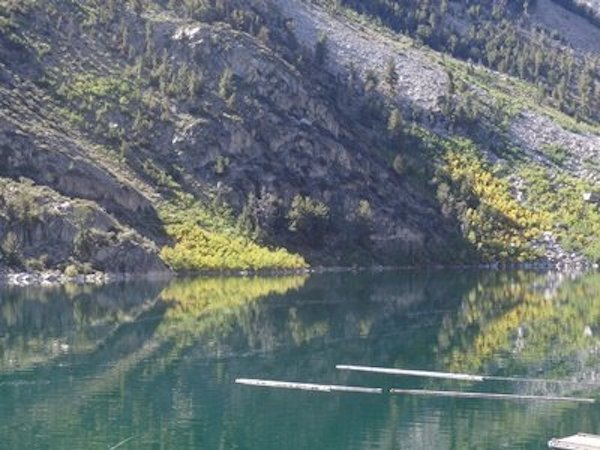 9-10-2018
September is definitely a month of change – cool weather and rain early last week, then mid 70s temps over......
Read More
www.EasternSierraFishReports.com © 2020. All Rights Reserved.
Website Hosting and Design provided by TECK.net