Eastern Sierra Fish Report
Lake Sabrina Fish Report for 9-7-2009
Lake Sabrina Fish Report
Lake Sabrina - Bishop, CA (Inyo County)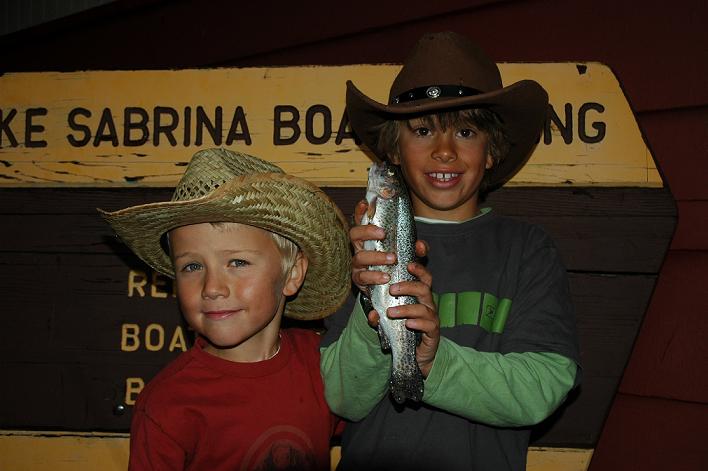 by Lake Sabrina Boat Landing Staff
9-7-2009
Website

Fishing is about the same as the past couple of weeks - slow. The weather on the other hand was unpredictable - w-i-n-d, sun, lightening, clouds, smokey air, thunder, cool temps, rain, hail and warm temps - we were all over the board. Breezes from the south Monday and Tuesday, then Wednesday & Thursday a breeze from the North brought in a bit of smoke from the fires up by Yosemite. Friday brought cooler-overcast skies and then rain and then hail - the size of the end of your thumb. Saturday and the rest of the Labor Day Weekend bought beautiful warm weather. We had a couple of more fires around Bishop Creek Canyon with the biggest fire-fighting water helicopter helping-out to douse both those fires in no time. Luckily for us in the canyon, the helicopter was just 'passin through'. Couldn't have happened at a better time!

Once again, fishing the inlets with NightCrawlers, PowerBait or Jigs. Trolling lead-core at about 5-6 colors with flashers and a NightCrawler or Thomas Buoyant. Enjoying the day, drifting the rock piles with a NightCrawler or PowerBait and the same for shore fishing. The DFG stocked the lake on Thursday.

Boy, did we have a good lightening and thunder-bumper show on Friday. Got over a half inch of rain along with some pretty good size hail. Looks like the back country might have gotten a bit of snow (or maybe it was lots of hail) as did the DingleBerry Knob. Hard-core anglers Thomas (10) and Nico (6) Mitchem of Los Angeles weren't going to let a little rain or hail stop them from fishing - determined to catch their first fish, they braved the elements - their patience paid off - a pan-size rainbow for their dinner. Way to go, Boys!

Forgot to mention last week that we had a bear in the dumpster during the night - that would be right outside our bedroom window! Got to see it rummage around - Rick scared it off and it's not been back. We think Nimrod had a close encounter of the bear kind. He wouldn't come in that night and the next morning, he was pretty skittish with even the softest noise. He also got chased by the Sabrina Campground Host "Hearing" dog Sherman - Nims climbed the Poplar outside the side door and proceeded to watch Sherman run around the yard looking for him. If you've been up to the lake recently, you may have notice a black bootie on Hi. Well, he's got a pinched nerve in his hind end (from all that jumping he used to do) that causes him to drag that back leg, toenails almost down to the quick - so he's sporting his new bootie and doesn't let a bum leg stop him - he still loves to chase the ball or stick.

New birds have been spotted around the lake - 4 baby Osprey, some Pied-billed Grebes and a flock of the strangest white birds. They swoop altogether not more that a couple of feet off the water and do a 180 or a 90 degree turn - all at the same time and don't bump into each other or go astray! Unbelievable - almost like watching Planet Earth!

Howard at www.MammothWeather.com is calling for this first week of September to be what the first week of August should have been - nice and warm with a chance of afternoon thunder-bumpers. Highs should be in the low 70s and the lows in the low 40s. You make also want to take a look at www.weather.gov for the Aspendell area forecast toward the latter part of the week.

A HUGE thank you to Samantha (Juanita's Grand-daughter) who entered over 400 e-mails over the last week to re-construct the database. We hope you are once again getting the report.

* * * NEWS FLASH * * * Verizon has removed the payphone out in front of Lake Sabrina Boat Landing. Cardinal Village will be your closest option as not very many cell phone providers work in the area; Bishop Creek Lodge, Parchers Resort and Creekside RV Park are your other choices.

With the return of warmer weather the skeeters have returned, so remember the bug juice and COMMIT TO MEMORY, IF YOU PUT ON BUG JUICE, SUN SCREEN OR FOO FOO JUICE, WASH YOUR HANDS! THEN RUB THEM IN WORM GOO, TROUT ATTRACTANT OR POWERBAIT - GET THE OTHER SCENT OFF!

Also, don't forget your sunscreen and dark glasses, the glare on the water is soooo bright, they just might blind your eyeballs. PONCHOS or COATS MAY ALSO BE NEEDED - YOU NEVER KNOW!

ALWAYS PACK A JACKET! ! ! !

You all have a great week and if the stress gets too great, you all know where to come to get some relief! But, remember you don't need to be stressed to come. WE JUST WANT TO SEE YOU SOON!
< Previous Report
Next Report >
< Previous Report
Next Report >
More Reports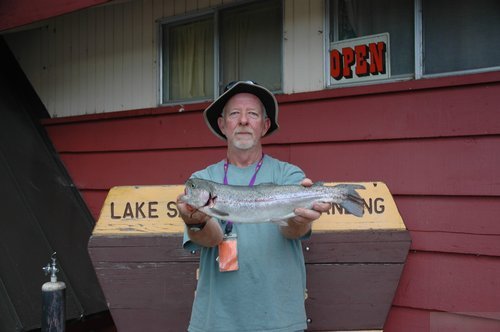 8-23-2009
No one call and ask what the weather's going to be like - cause we don't know - have no......
Read More
8-16-2009
Well, Mom Nature is up to her tricks again - the same ones she was playing in the spring. Couple of warm days, then w-i-n-d-y days, then back to warm then cold with a chance of snow (which it did in Mammoth a week ago Thursday), then a few awesome days - you get the drift. We were back to cool temps this weekend. Some pretty stiff breezes bringing in the cooler air. The fishing was a bit better this......
Read More
EasternSierra.FishReports.com © 2019. All Rights Reserved.
Website Hosting and Design provided by TECK.net