Eastern Sierra Fish Report
Lake Sabrina Fish Report for 6-17-2019
Lake Sabrina Weekly Report
Lake Sabrina - Bishop, CA (Inyo County)
by Lake Sabrina Boat Landing Staff
6-17-2019
Website

We've got boats on the water, more fish in the Lake and the Aspen are quaking with the growth of new leaves, the CrabApple is starting to bloom and the first StrawBerry-Rhubarb Pie hit the oven. The creeks are ripping so be extra careful when fishing that flowing water. Southern California Edison finished the work on the Dam (icebergs up against the dam caused a few issues with the integrity of the membrane) and they closed down the outflow, so the Lake is continuing to rise. And you all know what goes along with all the Summer stuff – SKEETERS, yup, don't forget the bug spray!!!
Department of Fish and WildLife were able to get down to the Lake for the first of many stockings of the season. Fishing picked up a bit either due to the stocking, no storms were on the horizon or just better fisherman. Lots of Brook Trout being caught – not sure why, but they are some good eating fish.
Maddie Walker (age 7) caught her first fish on Lake Sabrina using a Thomas Buoyant. Pretty much it's a repeat on what's working at the Lake – Red and Gold Thomas Buoyant, KastMasters, NightCrawlers and PowerBait. If you're in a boat, try drifting thru the channels between the two natural lake and the manmade part. Fish the Inlets – DingleBerry Inlet – back right hand side or Little George Inlet – back left hand side and George Inlet about 200 yards up from Little George Inlet.
If you plan to park down in the Lake bottom, please be courteous and park out of the way – don't park behind people you don't know – leave them a way out – don't park in the middle of the road – someone may want to get out or in – pull off to the side of the road and most of all – PICK UP YOUR TRASH!!! Might not want to take a 30' trailer down the launch ramp either, that turn is a booger – he was off the launch ramp going down and off coming back up – the wife admitted to being the navigator.
The Café will be closed on Wednesday, June 19th for our normal closure, then Thursday, June 20th (to give me an extra off day) and Southern California Edison is planning the pole replacement on Friday, June 21st. The Store and Boat Rentals will be opened. Cardinal Village Resort in Aspendell and Bishop Creek Lodge will both be opened for food.
Our new employees started this week. Matt and Tyler are both from Mission Viejo and will be with us for the Summer.
Hikers:
George Creek that crosses the Blue Lake trail is raging and the run-off is just getting going – not recommending taking children or dogs pass that point. Also, with all the new snow, Spring avalanches in the back country are a bit of a concern. Please check the weather report prior to heading into the backcountry for an overnighter or two. Might want to hike with a buddy. Put a note in your car about where you were headed and when you think you'll return.
WHAT TO DO IN BISHOP AND SURROUNDING AREAS
FOURTH OF JULY IN INDEPENDENCE
July 4 @ 6:15 am - 10:00 pm
Activities starting at 6:15am with the American Legion Flag Raising Ceremony at Dehy Park, followed by Lions Club Pancake Breakfast. Arts & Crafts, Historic walking tour of Independence then the "Critters on Parade" beginning at 10:00am. At 1:00pm there are kids games at the park followed by the ice cream and homemade pies event, which leads to the BBQ put on by the local fire department and community. Fireworks go off at sunset. Oh, and often there is a dance the night before at the park! To request a list of all activities and a Schedule of Events go to [email protected]
AWESOME FIREWORKS SHOW AT BISHOP AIRPORT
July 4 @ 4:00 pm - 10:00 pm
Bishop Airport, 703 Airport Road
Spectacular fireworks show sponsored by the Bishop Fire Department. Bring your barbecue, coolers, and shade. After sundown, watch the night sky show. 4 PM – 9:30 PM. Contact 760-873-5863 for info.
2019 SUMMER TRAIN RIDE SCHEDULE AT LAWS MUSEUM
July 4th Friday, July 5th Saturday, July 6th Saturday, July 20th Saturday, August 3rd Saturday, August 17th Saturday, August 31st Sunday, September 1st November 29th, (11:00am-2:30pm) November 30th, (11:00am-2:30pm) Railroad operations start at 10:30am and end at 2:30pm each operating day, except as noted above. Rides can run until 3:30pm each operating day if demand warrants the extension. Tickets may be purchased in the Train Station. Prices are $5.00 per person, children under 13 ride free with an adult. This schedule is subject to change due to weather.
FREE FISHING DAY
July 6 - All Day
BIG PINE TROUT DERBY
July 6
50/50 Raffle.....$600 Blind Bogey... prizes for largest fish...largest limit (5 fish)...tagged fish...adult and juniors categories. No fishing license required. Free fishing day. Day of the Derby signup 6:30am-10:00am Country Kitchen, Big Pine. Early signups available at Country Kitchen. Special drawing for early bird entries.

FREE CONCERTS IN THE PARK
July 12 @ 8:00 pm
Live Music every Monday night through August. Bishop City Park Gazebo.
If you're looking for something to do while in Bishop, check out the Bishop Chamber of Commerce Website at https://www.bishopvisitor.com/ for lots of fun things to do for all ages.
Bishop Visitor Information Center | Bishop California Welcome Center
www.bishopvisitor.com
21 Great Lodging Options. Whether on a relaxing fishing trip, outdoor adventure, or just passing through, Bishop is a wonderful place to stay. Find a room at a downtown Bishop Hotel, Hostel, Inn, Bed & Breakfast or venture up to Bishop Creek for a wonderful cabin experience.
Make sure you wear some kind of sun protection – the sun and reflection off the snow, ice and water will do a number on your skin and eyeballs! AND DON'T FORGET A JACKET!
A few ThunderBoomers in the forecast along with an official Hydrologic Outlook issued June 14, 2019 from the National Weather Service out of Las Vegas. Here is the forecast for the week from www.weather.gov (enter Aspendell, CA in the search and scroll down to see the temps).
National Weather Service
www.weather.gov
NOAA National Weather Service National Weather Service. Click on the map above for detailed alerts or
Hydrologic Outlook
Hydrologic Outlook
CAZ519-520-171300-
National Weather Service Las Vegas NV
318 AM PDT Fri Jun 14 2019
...Water levels rising on creeks and streams in Inyo County...

Temperatures will fall back closer to normal today through Monday, but snow melt in the high southern Sierra Nevada has accelerated. Creeks, streams, and rivers are experiencing higher flows that will continue through the weekend.
Due to swift currents and very cold water temperatures, creeks and streams pose life-threatening dangers. Extra caution should be exercised as exhaustion or unconsciousness from hypothermia could set in quickly. Always wear a properly fitted life jacket for all water activities.
Minor flooding could occur near any creeks, as well as across a few low water crossings on roadways. Near Bishop, some water will be routed through the Bishop Creek Bypass. Never drive through flooded roadways or around barricades. Also, pastureland or farmland adjacent to creeks, streams, or rivers could experience areas of standing water.
Monday
A chance of showers and thunderstorms before 3pm, then showers likely and possibly a thunderstorm between 3pm and 4pm, then a chance of showers and thunderstorms after 4pm. Mostly sunny, with a high near 63. Light and variable wind becoming northeast 6 to 11 mph in the morning. Chance of precipitation is 60%.
Monday Night
A chance of showers and thunderstorms before 8pm, then a chance of rain between 8pm and 9pm. Mostly cloudy during the early evening, then gradual clearing, with a low around 46. North wind 5 to 9 mph becoming calm in the evening. Chance of precipitation is 30%.
Tuesday
A slight chance of rain between 10am and 2pm, then a slight chance of showers and thunderstorms after 2pm. Sunny, with a high near 67. Light and variable wind becoming north northeast 8 to 13 mph in the morning. Chance of precipitation is 20%.
Tuesday Night
Clear, with a low around 48. West northwest wind 8 to 10 mph.
Wednesday
A 10 percent chance of showers and thunderstorms after 2pm. Sunny, with a high near 70. Light northwest wind becoming west northwest 6 to 11 mph in the afternoon. Winds could gust as high as 21 mph.
Wednesday Night
Mostly clear, with a low around 49.
Thursday
Sunny, with a high near 68. Breezy.
Thursday Night
Clear, with a low around 45. Breezy.
Friday
Sunny, with a high near 63.
Friday Night
Mostly clear, with a low around 42.
Saturday
Sunny, with a high near 62.
Saturday Night
Mostly clear, with a low around 43.
Sunday
Sunny, with a high near 63.
< Previous Report
Next Report >
< Previous Report
Next Report >
More Reports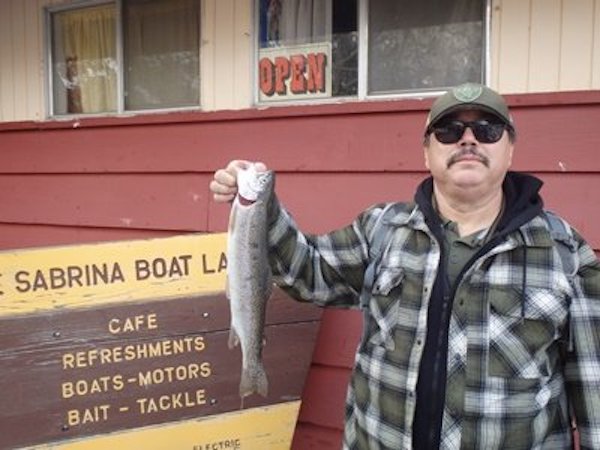 6-10-2019
And just like that we have a Lake! Temperatures started heating up last Tuesday and DingleBerry Creek picked up. Had......
Read More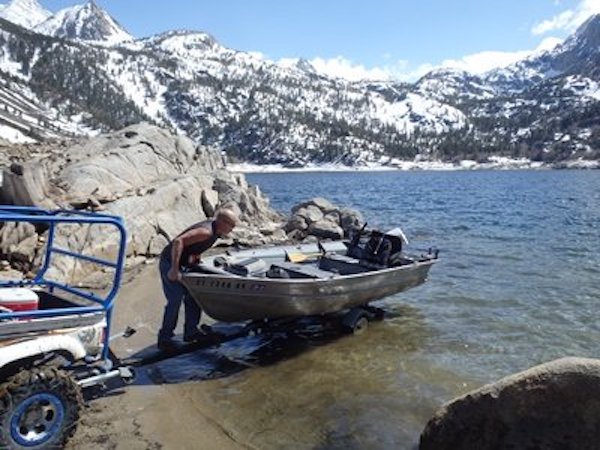 6-3-2019
We're getting close – temps are expected to be on the rise and it looks like no snow in the......
Read More
www.EasternSierraFishReports.com © 2020. All Rights Reserved.
Website Hosting and Design provided by TECK.net