Eastern Sierra Fish Report
Fish Report for 9-30-2022
Testing Underway for Pilot Project to Return Endangered Salmon to Their Historic Habitat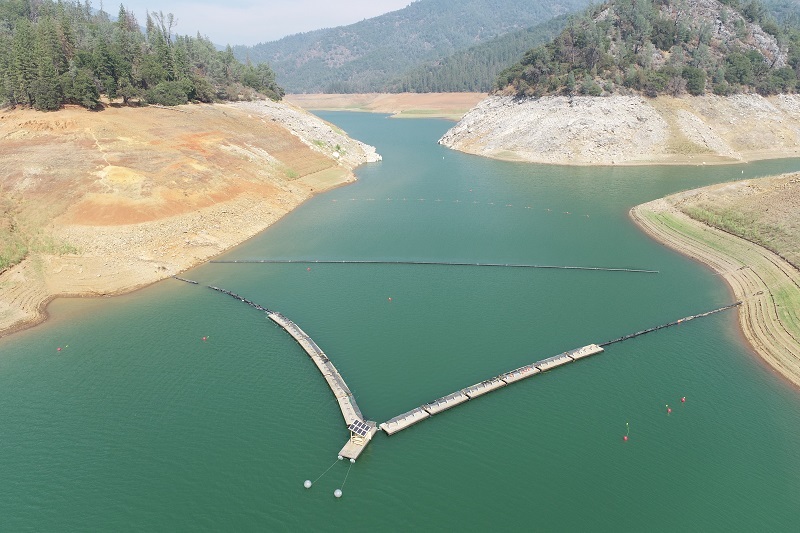 Photo courtesy of the California Department of Water Resources
by California Department of Fish & Wildlife
9-30-2022
Website

** News Release Issued Jointly by the California Department of Water Resources, the California Department of Fish and Wildlife, NOAA Fisheries, the USDA Forest Service and the Bureau of Reclamation **
State and federal biologists and engineers, in partnership with the Winnemem Wintu Tribe, have begun testing an experimental system in Shasta Reservoir that could help collect young salmon from the McCloud River in future years.
The Juvenile Salmonid Collection System, a pilot project three years in the making, is part of a long-term effort to help fish better survive California's hotter, drier future and more extreme droughts. The collection system will float in the McCloud River arm of the reservoir and guide cold water toward a collection point, with this cold water flowing down from the Shasta Trinity National Forest. The initial testing, which will run from September to mid-November, will not involve salmon but will use temperature and hydraulic measurements to assess the operation and performance of the collection system.
If successful, the system will be tested in future years with salmon to determine its efficacy and if it can be a critical part of winter-run salmon reintroduction. Biologists expect that juvenile salmon will follow the colder water to that collection point, where they can be retrieved and transported downstream around the dam to continue their migration to the ocean.
Recovery plans call for returning endangered Chinook salmon to their original spawning grounds in the cold McCloud River above Shasta Reservoir, where the fish may better survive drought and climate change. Juvenile salmon hatched in the river need to be collected as they migrate downstream but before they enter the reservoir that is home to warmer waters and potential predators.
"This is an innovative and important project that comes at a critical time for endangered winter-run Chinook salmon," said Scott Rumsey, Acting Regional Administrator for NOAA Fisheries West Coast Region. "While we will need a few years to move this ahead, we have no time to waste in preparing this native California species for the rising challenges of climate change."
Reintroduction efforts strive to reestablish endangered winter-run salmon in colder, high-elevation rivers where they once spawned before reservoirs blocked their migration. This would improve their resilience to a changing climate and could allow for more flexibility in managing water in the Sacramento River.
An important component of the project has been the commitment of state, federal, and regional authorities to Tribal engagement. Strategic efforts and planning have been enhanced with the support and commitment to developing a partnership with the Winnemem Wintu Tribe. The participation of the Winnemem Wintu Tribe brings unique perspectives and incorporates Tribal knowledge to the project.
"DWR is excited about the strong state, federal, and Tribal partnerships that are beginning to test the Juvenile Salmon Collection System," said Karla Nemeth, DWR Director. "This team effort is critical in supporting salmon and their adaptation to our climate-driven hotter, drier future."
The testing of the system will require intermittent restricted access for boats in the McCloud Arm of the reservoir. DWR and contractor staff will be on site, and the system may be repositioned as reservoir levels decline in the fall. Rachel Birkey, Forest Supervisor at the Shasta-Trinity National Forest shared that, "we are proud to join in this collective effort and share the ability of the national forest to contribute cold water flowing in the efforts to help safeguard this imperiled species."
"This really is a monumental step for securing a future for this imperiled, iconic California species," said Charlton H. Bonham, Director of the California Department of Fish and Wildlife (CDFW). "This is the first step in creating the infrastructure necessary to connect winter-run Chinook salmon in the Sacramento River with that ideal, cold-water spawning and rearing habitat in the McCloud River. We're eagerly anticipating the testing of this system."
The testing of the collection system is a separate effort from the transfer of about 40,000 winter-run eggs from the Livingston Stone National Fish Hatchery to the McCloud River, where they incubated throughout the summer. That effort, supported by the Winnemem Wintu Tribe, CDFW, NOAA Fisheries, and the U.S. Fish and Wildlife Service (USFWS), was an urgent response to the severe drought and will improve the salmon's odds of survival this year.
"Returning winter-run Chinook salmon to their original spawning grounds in the McCloud River has always been part of the plan to recover the species, but now climate change is accelerating the urgency of this action," said Paul Souza, Pacific Southwest Regional Director for the USFWS. "We are grateful to have dedicated partners standing with us to test out this innovative technology and help this endangered salmon survive."
"Winter-run Chinook salmon are an important species for the Central Valley Project, and we carefully manage water temperatures to protect the last naturally-spawning population below Keswick Dam on the Sacramento River," said Ernest Conant, director of the Bureau of Reclamation's California-Great Basin Region. "We have been able to support population resiliency and this reintroduction effort through our funding of the operation of the Livingston-Stone National Fish Hatchery and in the Battle Creek Restoration Program. We look forward to the day NOAA Fisheries can add a McCloud River population to those on the Sacramento River."
< Previous Report
Next Report >
< Previous Report
Next Report >
More Reports
California Department of Fish & Wildlife Reports
for Friday, September 30th, 2022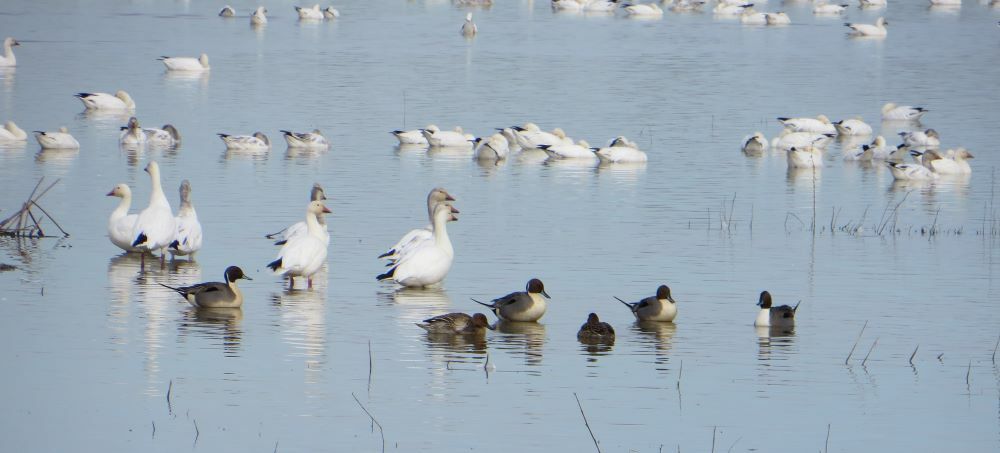 Klamath River - Upper - CA
:
Fall-Run Chinook Salmon Quota Met on Upper Klamath River
:
Avian Influenza Guidance for Waterfowl Hunters
California Department of Fish & Wildlife Reports
for Thursday, September 22nd, 2022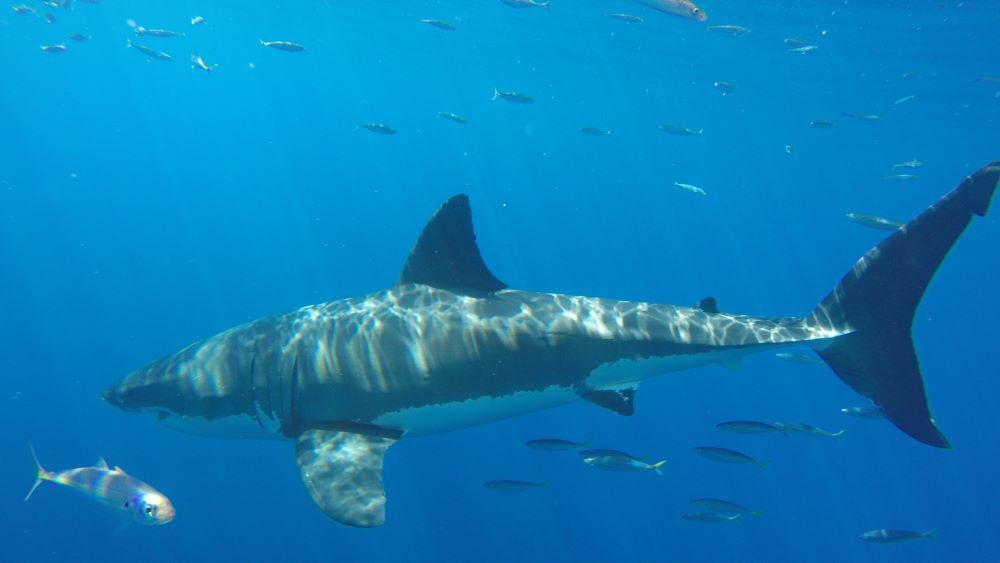 :
California Assembly Bill 2109 Signed into Law, Providing New Protections for White Sharks
:
Is CDFW doing anything to improve genetic diversity of planted steelhead?
:
California Assembly Bill 2109 Signed into Law, Providing New Protections for White Sharks
www.EasternSierraFishReports.com © 2023. All Rights Reserved.
Website Hosting and Design provided by TECK.net