Eastern Sierra Fish Report
Virginia Lakes Fish Report for 7-10-2022
Virginia Lakes Fishing Report
Virginia Lakes - Bridgeport, CA (Mono County)
Starting temperature was cool, but things will turn around by Sunday as the days are longer until July 20th and it's going to be a very bad fire season due to the lack of moisture and everything super DRY.
BAIT: Powerbait over shadowed worms, then, micetails and pinched crawlers but worms were holding their own most of the week. Five different flavors of powerbait worked, 3 types of micetails, brown/red head, pink/white head, white/pink head and lot of hook up bait that we don't carry.
LURES: Red/gold Buoyant, rainbow Buoyant 1/6th, silver/blue Kastmaster, silver/orange Kastmaster, 'lil Jake, black yellow dots Panther Martin, Silver Super Duper 501, small gold spoons and mini jigs.
FLY AND BUBBLE: Green body mosquitoes the number one fly for two weeks NOW, woohoo! Black gnat parachute, Griffith's Gnat, Adams female, grey hackle yellow, and grey hackle peacock. And all my favorite classic dries – BWO size 16-18, olive elk hair addis, and of course a tan tentwing caddis.
FLY RODS: Streamers, blue adult damsels , , prince nymph, and emergers. A couple hatches the last few days, dark mayflies (duns), blue damsels, with Thursday's midges overwhelming the area. June bugs are out and hissing. Also try the X-Caddis without a dropper, even some flash tri-color buggers, and crystal flashes. Bring it all, close your eyes and pick something. Tie it on and you'll probably do well. You will not have a problem catching, although it may be small, it's a trout, and it's a heck of a lot of fun.
BACKCOUNTRY: Lot of flies hitting at Cooney and the inlet to big Frog. Bring Repellent, LOTS, they are merciless. Take standard dries and pinch your barbs and let 'em live to hit another fly. Blue is also doing good at the inlet and along the corner toward the trail. Small mosquitoes, black gnat/red tail, Adams parachute and Griffith's Gnat, all size 16 or 18. NOTE: If the trout bleeds don't throw it back into the lake, it will die. If you care about the resource please be careful when releasing fish back into the water and IT ATTRACKS BEARS.
Carolyn
Trophy Trout for the week (*pix attached)
Little Virginia/LV, Big Virginia/BV, Trumbull/T*
Audrey Zitnay Gilroy 2lb1 garlic PB 7-3 BigV
Braydon Heier Las Ve3gas 4lb3 tag 1287 Orange Mtail 7-3 Trumbull
Chris Kent Bakersfield 3lb5 rainbow PB 7-3 LV*
Jeff Paggi 3 Rivers 3lb4 Tag 1108, 3lb1 Fly's 7-4 LV*
Deano Gearden Murietta 3lb Salmon Peach PB 7-3 LV*
Johanna Hertz NV City ag3 14 2lb7 pinch crawler 7-3 LV*
Dave Ward Santa Barb 4lb tag 1307, 3lb4 Hookup 7-3 LV*
Vahid Behmaram Reno NV 3lb5, 3lb yell PB 7-4 BV*
Jacquie Ball Manhattan Bch 2lb9 7-4 LV*
Uriah Ruffner age 13 Castaic 6lb2 Mtail tag 1297 7-5 Trumbull*
Jim Carl San Marcos Org PB 3lb8 tag 1308 7-6 LV*
Tim Campbell Gilbert AZ 3lb8 Fly 7-6 LV*
Kate Butiu Long Beach 3lb green PB 7-7 LV*
Joseph Lefebvrier Cerritos 4lb5 tag 1248 White/P Mtail 7-7 LV*
Joseph Lefevbrier Cerritos 3lb2 tag 1329 Blue Nymph 7-8 LV*
Avery Lefevbrier age 7 San Fran 3lb3 PB 7-8 LV*
Brian Baber Temecula 2lb7 Mtail 7-8 BigV
Judy Baber Temecula 2lb6, 3lb3, 3lb1 7-8 Big V*
Angela Lefevbrier Frisco 2lb9, 2lb6 7-9 LV*
Avery Lefevbrier Frisco 4lb5 tag 1304, 2lb8 PB 7-9 LV*
Mike Lefevbrier Frisco 4lb6 tag 1285 fly 7-9 LV*
Chris Osgood Rialto 3lb Sal Pch/roe dip 7-9 Trumbull*
Andrew Trujilla Buena Park 3lb5 minijig LV* 
Virginia Lakes Resort is located near the top of Conway Summit between Mono Lake and Bridgeport, CA. We have everything you need to enjoy the Eastern Sierra. Check out our WEBSITE.
< Previous Report
Next Report >
< Previous Report
Next Report >
More Reports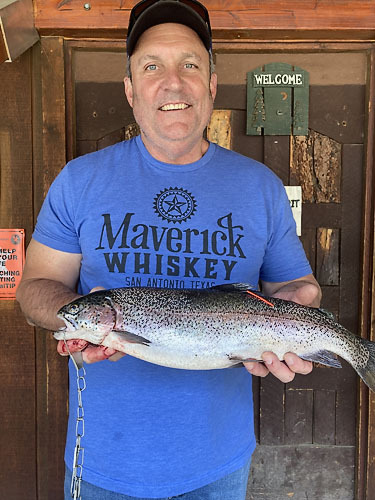 6-13-2022
Trophy trout were stocked 6/3/22 - Nice surprise for the weekend crowd. DFW will be stocking next week and the......
Read More
www.EasternSierraFishReports.com © 2023. All Rights Reserved.
Website Hosting and Design provided by TECK.net