Eastern Sierra Fish Report
Virginia Lakes Fish Report for 10-11-2021
Virginia Lakes Weekly Fishing Report
Virginia Lakes - Bridgeport, CA (Mono County)
October 3 - 9th Virginia Lakes Resort Fish Report - L A S T   R E P O R T of 2021


UPDATE of AB-817: Tracking Notifications:
AB-817: Sport fishing licenses: electronic display: 12-consecutive-month licenses. On 07-OCT-21 the following historic action was applied: "Approved by the Governor."
Weather: -  (7am Temp  Sunrise/Sunset - FM Full Moon)Sunday33º6:54/6:37Mostly clear with haze moving in.Monday38º6:55/6:36Mostly clear with haze moving in.Tuesday39º6:55/6:34Very Smoky, visibility 1/4 mile, never seen it like this. Visibility in Bport is about 2 miles maybe!Wednesday38º6:56/6:33Hazy with a good chop on the water.Thursday36º6:57/6:31
Cloudy and very dark, looks like rain, no smoky/haze but cold. Wind started 11am.
 Friday34º6:58/6:29Snowing lightly6am, snowing heavily 7:30am but with light breeze, noon the wind picked up probably to blow the storm out. Sun is trying to break through.Saturday22º6:59/6:28Coldddddd but clear. Snow is still on the peaks but melting fast.
It's cooling down and all the aspens have blow off between the resort down to the lower creek campground which is still open. Full color has not hit Conway Summit as of the 9th of October. With these temperatures they will go fast and probably peak in 2 days along US395 1/4 north of Conway to 1/4 mile south of Conway which is always the best but hard to access due to lack of shoulder parking.
I cannot tell you how much this will hurt the Trumbull Campground if letters are not written to the CA Fish and Wildlife Commission to remove the YEAR-ROUND fishing and provide the protection to the resource (fish) during the winter months. This is NOT a good thing and I urge anyone that disagrees with this new regulation to submit their objection to the CA Fish and Game Commission as soon as possible. Go to their web-site and download the form, fill it out and mail to them, or phone them. Explain your reasons in detail so they understand it's been part of your family tradition for "blank number of years" and the fishing has always been good due to the fact that DFW has stocked regularly.
BFEF stocked trophies in Trumbull in July and another full load went into the lake on the 19th, and getting some good reports from all the trophies caught out of Trumbull most of the week. It's great news and very exciting.
EASTWALKER RIVER - September 12, 2021
Well, unfortunately the night time temperatures have not been very cold this past week and the water temps on the EW are still in the high 60's in the morning and the low 70's in the afternoons. It's probably still best to leave the river alone for the time being, hopefully the weather pattern will change soon so the water temperatures lower and we can get back out there! We'll keep you posted as best we can when things down there are ready!
BAIT: Top spot for the week is pinched crawlers, night crawlers, salmon peach powerbait, garlic, rainbow glitter, and chartreuse powerbait. But night crawlers are always a good bet. Just bring everything, you can make up your own combination. Water is 60 degrees
LURES: Red/gold Buoyant/6 oz., gold Kastmaster, Black with yellow dots Panther Martin, mini jigs, and your favorite lure even if it's vintage. I use vintage all the time - gold Mepps "O", 502 Gold/red Super Duper, and Black Fury Mepps.
FLY AND BUBBLE: Slow on dries so try anything that looks like a small moth (aquatic moth) which are everywhere. The cold weather has slowed the bite down a lot. Blue Lake is also fair to good with flies on the south side with small gold Kastmaster's and Red Devil 1/6 oz. Cooney had some action the south side casting toward the middle and letting it move toward the outlet, so you have to be in the southeast corner. Also the spider trails started 2 days ago and will probably continue so that means soft hackles, any color body but probably darker, or even a light yellow. But that was when it was warm about 5 days ago.
FLY RODS: Try streamers (BH olive woolly bugger, the more flash the better ones also black with crystal flash, grey midges, hoppers are done up here unless you have something super unique. prince nymphs, BH and emergers (EC Caddis emerger) on intermediate sink tip. Try a 2 fly rig - Olive Doc's Twin Lake Special with a dropper (Prince, Zug bug or pheasant tail). Still some hatches going off, with lots of midges. Also try the X-Caddis without a dropper, even some flash tri-color buggers, and crystal buggers in olive and black. Bring it all, close your eyes and pick something. You will not have a problem catching, although it may be small, it's a trout, and it's a heck of a lot of fun. Water is still warm so go deeper.
BACKCOUNTRY: No reports  Only my report as not many reports other than what is standard for the front country lakes, but try and use a fly/bubble combo to keep the fish healthy if you do not plan to keep any. Pinching down your barbs would also help the resource if you plan to practice catch-and-release. Flies to try are Green Body mosquito, small Griffiths Gnat, Black Caddis, small Grey Hackle Yellow, Professor, and black gnat parachute.
NOTE: Please learn how to release trout without harming them if you plan to go for larger fish. All fish need careful handling. Do NOT use rags, drag along the shore or touch their gills! If the trout bleeds don't throw it back into the lake, it will die. If you care about the resource please be careful when releasing fish back into the water and IT ATTRACKS BEARS.
Virginia Lakes Resort is located near the top of Conway Summit between Mono Lake and Bridgeport, CA. We have everything you need to enjoy the Eastern Sierra. Check out our WEBSITE.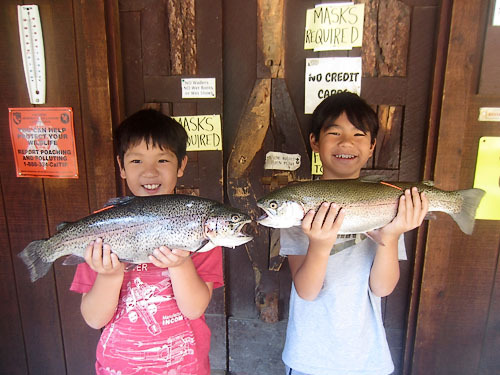 Sharon Ludwig Norco 3lb12 tag 1712 Buoyant 10-1 LV*Aiden Kawakami age 9, LA with Ethan Kawakami 4lb tag 1657 powerbait 10-1 LV
< Previous Report
Next Report >
< Previous Report
Next Report >
More Reports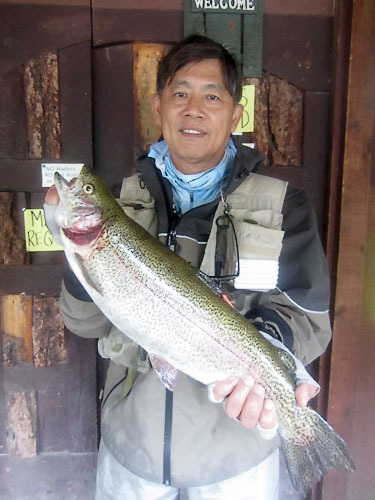 9-28-2021
Starting temperature was cooler this week with perfectly clear air. More aspens have turned yellow around the lake and cabins ......
Read More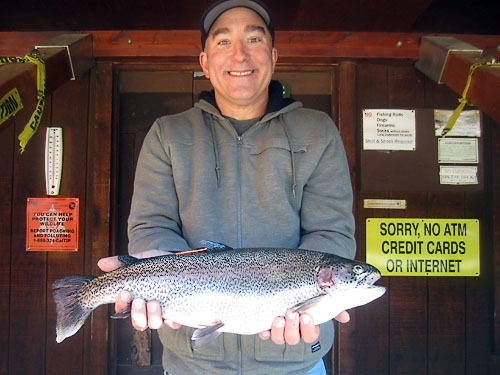 9-21-2021
Starting temperature was DEFINITELY cooler this week with perfectly clear air except for W-Thur-Fri. More and more aspens have started......
Read More
www.EasternSierraFishReports.com © 2023. All Rights Reserved.
Website Hosting and Design provided by TECK.net