Eastern Sierra Fish Report
Virginia Lakes Fish Report for 8-2-2021
Virginia Lakes Resort Fishing Report
Virginia Lakes - Bridgeport, CA (Mono County)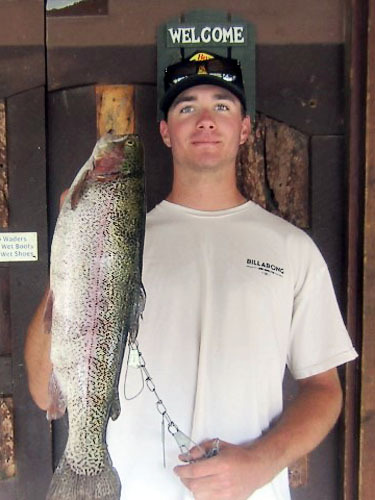 Corta Riverside 3lb on a Woolly bugger 7-24 Little V
Photo Credit: Courtesy of Virginia Lakes Resort
Sunday started with a warming trend. Please don't forget to bring mosquito repellent I'm running out of blood, they're everywhere along with the GNATS. Also, if you hear reports that fishing is slow up here, yes it has been slow and mainly because the water is very warm for this elevation. At 5pm the 25th and top 18" of water was 69 degrees, YIKES!
The stock truck arrived on the 19th from the County Trophy Trout Program was scheduled for the 23rd but the facility had some scheduling problems. That brings our poundage to 3700 pounds of fish since we opened June 3rd.
EAST WALKER RIVER - July, 2021
The weather here in the Bridgeport area has warmed up quite a bit the last couple days which has caused Bridgeport Reservoir and the East Walker to also warm up, I think we've reached the point now where it's going to be best to stay off the river for the time being, for the health of the river and of course the fish. The long range forecast looks like it's only going to get hotter, with only a very slight chance of any thunder storms in the near future which doesn't bode well for the water temperatures. We will keep monitoring the conditions on the river and let you know when it gets safe for the fish, this may take 6 to 8 weeks if the weather doesn't change before then, but for the time being we are going to advise our clients to find cooler streams to fish and let the East have a rest.
The stock truck arrived this week from Oregon, so we may be on an every other week schedule with DFW and if I hear different I'll post it.
Sunday's starting temperature was very warm with slight cloud cover. Definitely bring mosquito repellent, as I walked up to the pine tree above Trumble Lake and literally was eaten alive. There are swarms and they're hungry and it's hot and hikers and anglers are shedding clothes for comfort.
Possible thunderstorms on Sunday which will be a great relief should it happen.
BAIT: Top spot for the week is orange power worms, Salmon peach, garlic and chartreuse garlic glitter. Night crawlers are running neck in neck for the first spot in bait, then power worms, mouse tails and pinched crawlers. Just bring everything, you can make up your own combination
LURES:. Red/gold Buoyant, red/gold Kastmaster, blue Taz Devil's, bleeding frog Buoyant, 1/6 Copper Buoyant. Floating Rapala's, mini jigs, jig heads and the like.
FLY AND BUBBLE: Green body mosquitoes and Black Gnats, Grey Hackle Yellow and Griffith's Gnats prince nymph, black gnat parachute, Adams female, grey hackle yellow, and grey hackle peacock red tail.
FLY RODS: Streamers, damsels (blue and olive), large black fuzzy ants, hoppers, prince nymph, and emergers. Try a 2 fly rig with a Doc's Twin Lake Special in Olive with a dropper (Prince, Zug bug or pheasant tail). Still some good hatches going off, dark mayflies (duns) and tons of  midges overwhelming the area. June bugs are hanging around still but numbers are dwindling. Also try the X-Caddis without a dropper, even some flash tri-color buggers, and crystal flashes. Bring it all, close your eyes and pick something. Tie it on and you'll probably do well. You will not have a problem catching, although it may be small, it's a trout, and it's a heck of a lot of fun. Water is very warm so go deeper.
NOTE: Please learn how to release trout without harm, if you plan to go for larger fish. All fish need careful handling. Do NOT use rags, drag along the shore or touch their gills
! NOTE: If the trout bleeds don't throw it back into the lake, it will die and IT ATTRACKS BEARS. If you care about the resource please be careful when releasing fish back into the water.
Virginia Lakes Resort is located near the top of Conway Summit between Mono Lake and Bridgeport, CA. We have everything you need to enjoy the Eastern Sierra. Check out our WEBSITE.
< Previous Report
Next Report >
< Previous Report
Next Report >
More Reports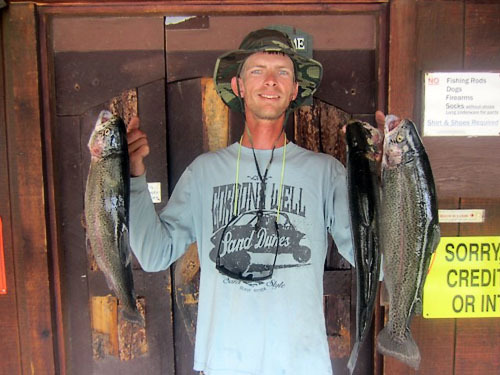 7-12-2021
EAST WALKER RIVER - July 07, 2021 The weather here in the Bridgeport area has warmed up quite a bit the......
Read More
7-3-2021
Starting temperature was warm with some slight cloud cover. Bring mosquito repellent, they're hungry and it's been a lean 18 months. Everyone in the county has been very grateful for the high elevation thunderstorms as it has put more water into the ground and the lakes, reservoirs, and streams. Hopefully it's enough to deter any possible fires. The stock truck arrived again yesterday, that's 4 weeks in a row. I'm blown away with 600 lbs, it's like 1990 all over again.......
Read More
www.EasternSierraFishReports.com © 2022. All Rights Reserved.
Website Hosting and Design provided by TECK.net