Eastern Sierra Fish Report
Lake Sabrina Fish Report for 5-31-2021
Lake Sabrina Weekly Report
Lake Sabrina - Bishop, CA (Inyo County)
by Lake Sabrina Boat Landing Staff
5-31-2021
Website

Remembering those who lost their lives for our freedoms – thank you.
Thank you DFW for the stocking, just before Memorial Weekend, making so very many fisherpeople happy!!!
Not only were there lots of people at Mule Days, there were lots of people at the Lake and lots of those people at the Lake caught fish. Saw lots of limits coming out of the Lake – granted some of those fish were on the smaller side, but a few were definitely on the large side. Heather Allen brought in a 4-pounder on PowerBait and Jeff and Patty Smith landed a 5-3/4 on a MiceTail. Grandpa Ross showed grandson Calvin Purnick the finer points of fishing, catching and cleaning – making memories and having a fine dinner. Dinner was caught on Thomas Buoyants.
And, once again, those catching fish were using NightCrawlers, Mini Jigs, PowerBait, MiceTails and the Red and Gold Thomas Buoyant.
All the campgrounds in Bishop Creek Canyon have now opened with Sabrina Camp and Upper Intake 2 opening on Friday. Remember Bishop Park and The Forks have switched over to 100% reservation thru www.recreation.gov. North Lake is a dry camp with no potable water. Four Jeffery, also, has reservable campsites and first-come-first-serve spots. The lower part of Intake 2 campground is open as first-come-first-serve and BitterBrush and Big Trees are first-come-first-serve. Just an FYI – the bears are waking up and there's a BIG one roaming thru Aspendell knocking over the big green trash bins and prying the lids open – please store your food properly and DON'T feed the bears or the deer.
Currently, private boats can launch from dirt. No parking down in the Lake bottom.
Temps look to be on the rise along with a chance of some thunderboomers Wednesday and Thursday – so pack your raingear. You can check the forecast yourself at www.weather.gov – enter Aspendell, CA and scroll down a bit for the temps and forecast up our way.
A few items we'll just keep here for the season –
Remember, Lake Sabrina is a reservoir for hydro-electricity. Edison uses the water all winter to make electricity for the general grid. During this time, there is very little water coming into the Lake. The Lake fills from the winter snowpack. This year, due to the work on the spillway last year, the water level started lower than usual and the snowpack is less than usual. The Lake will rise, but probably will not fill.
Eastern Sierra Transit's Bishop Creek Shuttle will be running this season. $5.00 per trip. Twice daily roundtrip service from Bishop to the Bishop Creek Recreation Area. This route will run Saturday, June 12, 2021 and will operate seven days per week through September 6, 2021. The route will provide service from Bishop to the Bishop Creek Recreation Area with scheduled stops at South Lake and Lake Sabrina. The route will also provide intermediate stops at all locations where it is safe for the bus to stop. Expected intermediate stops include, but are not limited to, South Fork Bishop Creek Lodge, Parcher's Resort, Aspendell, intersection of CA-168 and North Lake Road, intersection of CA-168 and Buttermilk Road as well as Starlite Road, and Forest Service campgrounds along the route.
Mono County Tourism sent out a bit of a reminder regarding Mountain Manners – the lands were pretty well trashed last year, please, please pick up after yourselves. Sure, would appreciate the help!
It's time we had a talk about your manners.... Mountain Manners that is!
Like all parents, Mother Nature Loves good manners! Everyone knows the Golden Rule "Take only photos; leave only footprints" but here are a few other Mountain Manners etiquette tips to help protect the Eastern Sierra:
MANNER #1: Follow the Beaten Path
Straying from designated paths can cause harmful erosion, and damage fragile plants, so we ask you to take the road most traveled. (with apologies to Robert Frost).
MANNER #2: Scoop the Poop
Your #2 is becoming our #1 issue. If it's your pet's, please bag it and take it out to a trash can! If it's your own, bury it in a cat-hole at least 6-8 inches deep or better yet, pack it out.
MANNER #3: Gather up Garbage
Even if it's not yours, please pack out litter! Nothing makes Mother Nature happier. Remember, food scraps are litter, too. Even if food is considered "biodegradable," no one wants to see your orange peels lying around - and human food is unhealthy for wildlife.
MANNER #4: Don't Feed The Bears
Or deer, birds, chipmunks, etc. Please keep yourself - and your food - out of the reach of wildlife. Store all food in bear boxes or bear-proof containers, NOT in your vehicle.
MANNER #5: Remove Fishing Line and Hooks
Fishing hooks and tangled line are dangerous to wild animals, birds, fish, pets and kids. Please remove this litter from water and shoreline and pack it out.
MANNER #6: Keep Invasive Species Out
Take all steps to keep invasive species from spreading and destroying out lakes, streams, rivers and meadows.
MANNER #7: Don't Pick The Flowers!
It's no easy task to blossom and survive in challenging alpine conditions - wildflowers work hard to grow! Please don't disturb or remove plants, rocks or artifacts. Their home is right where you found them. Always stay on trail and never destroy or walk on vegetation.
MANNER #8: Social Media Do's and Don'ts
Keep wild places wild and don't geo-tag your Instagram Photo! Special places can be destroyed by Insta-fame. Remember that people may want to get the same photo as you - be sure your pics are taken from a safe place and do not show a dangerous activity or one that could disturb wildlife or fragile landscapes. Selfie accidents are a thing - watch your footing!
Thank you for your stewardship of the Eastern Sierra! More info at: https://www.monocounty.org/plan-your-trip/mountain-manners/
Received a FORECAST from Edison regarding their BEST GUESS on the Lake water levels for Lake Sabrina (paraphrased)
It looks like the water level will be fairly stable from mid to late June through the beginning of August. Edison plans on draining Intake 2 starting the beginning of August to complete the work on the spillway. Edison will pull a bit more water from South Lake and less water from Lake Sabrina to reduce the amount of water thru Intake 2 and meet water flows in the Valley.
Please understand - this is NOT set in stone. Mother Nature and Life happens!
Juanita, Rick, Patti, Dwayne, Bob, Matt and Len
< Previous Report
< Previous Report
More Reports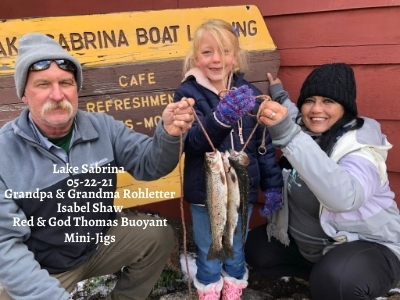 5-24-2021
A few more days of Winter – but all's good as we picked up a few more inches of snow......
Read More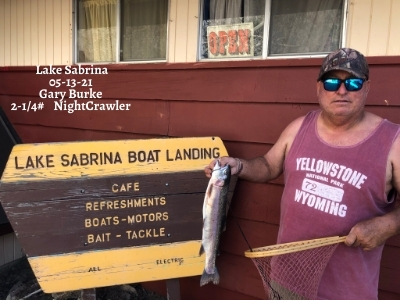 5-17-2021
Mother Nature is just not letting go of winter – snow on Thursday, Friday, Saturday and Sunday along with some......
Read More
www.EasternSierraFishReports.com © 2021. All Rights Reserved.
Website Hosting and Design provided by TECK.net