Eastern Sierra Fish Report
Lake Sabrina Fish Report for 4-26-2021
Lake Sabrina Weekly Report
Lake Sabrina - Bishop, CA (Inyo County)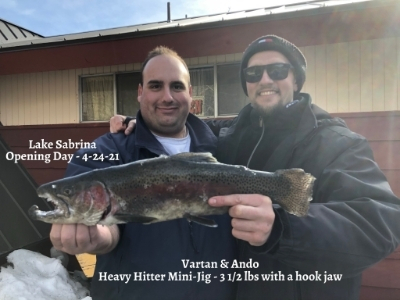 Photo Credit: Courtesy of Lake Sabrina
by Lake Sabrina Boat Landing Staff
4-26-2021
Website

Fishing season opens April 24th, 2021
Spring Hours:
Friday thru Sunday
7:00am to 6:00pm
Monday thru Thursday
8:00am to 6:00pm
We're looking for a cook/dock worker – if you'd like to come spend the summer at Lake Sabrina, stop on by or give us a call or send us an email.
It was definitely your typical Fishmas Opener – windy (gusts up to 42mph), snowy (basically just flurries) and cold (wind chill temps at 20 degrees), but that didn't stop a lot of fisherpeople from tossing a line in. The day started with the back natural lake ice-free and the front with pockets of open water, by the end of the day – we were pretty much ice-free – totally caught us by surprise.
Of those anglers that did brave the elements, many caught fish using the tried-and-true baits and lures – NightCrawlers, Salmon Eggs, PowerBait and the Red/Gold Thomas Buoyants. Many took the trail to DingleBerry Inlet which produced many limits on Saturday. Sunday the place to be was at the front of the Lake – go figure!
We did get a few pictures, but many headed straight for their vehicles to warm up. Ruben Cordero, Dennis Valenzuela and Brandon Valenzuela brought in 10 fish using PowerBait for their Opening evening dinner. Brice Uyeda used NightCrawlers to land his stringer of fish. A heavy hitter mini-jig landed the biggest fish we saw come out of Lake Sabrina this weekend. Two very excited fisherpeople, Vartan & Ando worked together to bring in a 3-1/2-pound rainbow. Now, Eric Martins knows how to fish Opening weekend, keeping his girlfriend Alicia Gordon and himself (or at least their fingers) a bit warmer using a Mr. Buddy.
With the open water, we know you're all chomping at the bit to get out in a boat. Currently, private boats can launch from dirt. Our boats probably won't be on the Lake for a week or so as it's just a bit too cool to work on them – so stay tuned – we'll probably take our first reservation for the weekend of May 7th, but NOT for the pontoons – the water is just too low.
BitterBrush, Big Trees and Four Jeffrey Campgrounds are currently open. The Forks, Intake 2 and Bishop Park are still waiting for the blessings of Inyo County Health on water. Just an FYI – the bears are waking up and there's a BIG one roaming thru Aspendell knocking over the big green trash bins and prying the lids open – please store your food properly and DON'T feed the bears or the deer.
For those that would like to do a bit of hiking – the Sabrina Basin Trail leading up towards Blue Lake was very snowy and icy after the George Creek crossing. Temps are going to start warming up towards the end of the week – probably means a bit of post-holing after the George Creek crossing. Please be careful out there and leave an itinerary of where you're heading, what you're wearing and about what time you intend on returning to your ride in your ride.
The weather forecasters are calling for a bit more white stuff Monday and Tuesday in the high-country (that's us) with some pretty chilly temps. Monday morning we had a wind chill low of 16, but by Wednesday, temps start to increase and it looks like we'll be in the 60s for the weekend – You've got to love Spring in the Sierra!!!
Monday
Isolated snow showers before 7am, then scattered snow showers after 1pm. Mostly sunny, with a high near 36. Southwest wind 13 to 18 mph, with gusts as high as 28 mph. Chance of precipitation is 30%. Total daytime snow accumulation of less than a half inch possible.
Monday Night
Isolated snow showers before 10pm. Mostly cloudy, with a low around 21. Southwest wind 7 to 14 mph, with gusts as high as 21 mph. Chance of precipitation is 20%.
Tuesday
Isolated snow showers after 11am. Some thunder is also possible. Partly sunny, with a high near 38. Northwest wind 6 to 11 mph becoming north 12 to 17 mph in the afternoon. Winds could gust as high as 25 mph. Chance of precipitation is 20%.
Tuesday Night
Mostly clear, with a low around 25. West northwest wind 11 to 17 mph, with gusts as high as 25 mph.
Wednesday
Sunny, with a high near 53. North wind 11 to 14 mph, with gusts as high as 21 mph.
Wednesday Night
Clear, with a low around 34.
Thursday
Sunny, with a high near 63.
Thursday Night
Partly cloudy, with a low around 39.
Friday
Mostly sunny, with a high near 65.
Friday Night
Mostly cloudy, with a low around 41.
Saturday
Partly sunny, with a high near 63.
Saturday Night
Partly cloudy, with a low around 37.
Sunday
Sunny, with a high near 58.
A few items we'll just keep here for the season –
Mono County Tourism sent out a bit of a reminder regarding Mountain Manners – the lands were pretty well trashed last year, please, please pick up after yourselves. Sure, would appreciate the help!
It's time we had a talk about your manners.... Mountain Manners that is!
Like all parents, Mother Nature Loves good manners! Everyone knows the Golden Rule "Take only photos; leave only footprints" but here are a few other Mountain Manners etiquette tips to help protect the Eastern Sierra:
MANNER #1: Follow the Beaten Path
Straying from designated paths can cause harmful erosion, and damage fragile plants, so we ask you to take the road most traveled. (with apologies to Robert Frost).
MANNER #2: Scoop the Poop
Your #2 is becoming our #1 issue. If it's your pet's, please bag it and take it out to a trash can! If it's your own, bury it in a cat-hole at least 6-8 inches deep or better yet, pack it out.
MANNER #3: Gather up Garbage
Even if it's not yours, please pack out litter! Nothing makes Mother Nature happier. Remember, food scraps are litter, too. Even if food is considered "biodegradable," no one wants to see your orange peels lying around - and human food is unhealthy for wildlife.
MANNER #4: Don't Feed The Bears
Or deer, birds, chipmunks, etc. Please keep yourself - and your food - out of the reach of wildlife. Store all food in bear boxes or bear-proof containers, NOT in your vehicle.
MANNER #5: Remove Fishing Line and Hooks
Fishing hooks and tangled line are dangerous to wild animals, birds, fish, pets and kids. Please remove this litter from water and shoreline and pack it out.
MANNER #6: Keep Invasive Species Out
Take all steps to keep invasive species from spreading and destroying out lakes, streams, rivers and meadows.
MANNER #7: Don't Pick The Flowers!
It's no easy task to blossom and survive in challenging alpine conditions - wildflowers work hard to grow! Please don't disturb or remove plants, rocks or artifacts. Their home is right where you found them. Always stay on trail and never destroy or walk on vegetation.
MANNER #8: Social Media Do's and Don'ts
Keep wild places wild and don't geo-tag your Instagram Photo! Special places can be destroyed by Insta-fame. Remember that people may want to get the same photo as you - be sure your pics are taken from a safe place and do not show a dangerous activity or one that could disturb wildlife or fragile landscapes. Selfie accidents are a thing - watch your footing!
Thank you for your stewardship of the Eastern Sierra! More info at: Mono County
Received a FORECAST from Edison regarding their BEST GUESS on the Lake water levels for Lake Sabrina (paraphrased)
It looks like the water level will be fairly stable from mid to late June through the beginning of August. Edison plans on draining Intake 2 starting the beginning of August to complete the work on the spillway. Edison will pull a bit more water from South Lake and less water from Lake Sabrina to reduce the amount of water thru Intake 2 and meet water flows in the Valley.
Please understand - this is NOT set in stone. Mother Nature and Life happens!
Juanita, Rick, Patti, Dwayne, Bob, Matt and Len
< Previous Report
Next Report >
< Previous Report
Next Report >
More Reports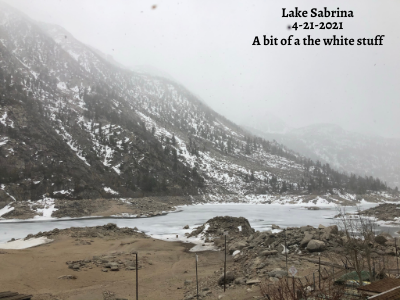 4-22-2021
Fishing season opens April 24th, 2021 Spring Hours: Friday thru Sunday 7:00am to 6:00pm Monday thru Thursday 8:00am to 6:00pm We're looking for a cook/dock worker......
Read More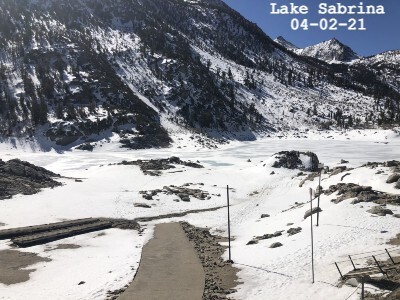 4-6-2021
Lake Sabrina Boat Landing plans to open on April 24, 2021 - as of now, there will be NO boat......
Read More
www.EasternSierraFishReports.com © 2021. All Rights Reserved.
Website Hosting and Design provided by TECK.net