Eastern Sierra Fish Report
Lake Sabrina Fish Report for 8-2-2020
Lake Sabrina Fishing Report
Lake Sabrina - Bishop, CA (Inyo County)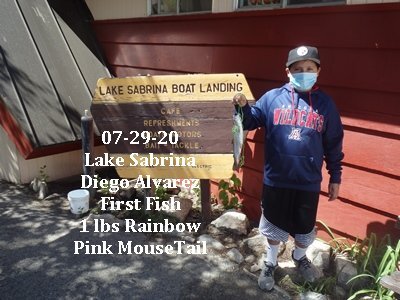 Photo Credit: Courtesy of Lake Sabrina Staff
by Lake Sabrina Boat Landing Staff
8-2-2020
Website

We were to receive a stocking from Wright's Rainbow out of Idaho this past week, but our California Fish and WildLife department nixed the stocking so they could test it for bacteria – so we're trying to bring you fish, but . . . . . . . . . .
Seems fishing around the rockpiles, the rockslide on the back right hand side or drifting over the shorelines between the two natural lakes and the front natural lake and the man-made lake is producing some action using NightCrawlers or PowerBait. Diego Alvarez caught his first fish this week on a Pink MouseTail.
Still lots of people coming up to get out of the heat down in the Valley - It's even been out up here with temps in the mid-80s and that's plenty warm for us. We didn't even have much of a breeze this week.
No updates on the Auxiliary Spillway project as they were trying to pop some BIG boulders they popped a hydraulic hose on the excavator and that was the end of work for a week. We understand that they may have to dynamite those boulders – fun times at the Lake. We, also, understand they may be helicoptering concrete in in September – more fun times at the Lake.
Here is an update on the South Lake Road Project:
South Lake Road
Construction Information
The construction schedule remains Monday – Friday, 6:00am to 8:00 pm. Expect up to 30-minute delays. Flaggers and a pilot car will manage traffic, allowing alternating two-way traffic.
Overnight parking restrictions planned;
parking still limited
Tyee Lakes parking lot is closed effective July 30 (no day or overnight parking). Parking will be restored after the work is complete.
Overnight parking is permitted at Bishop Pass Trailhead through August 17. Hikers entering or exiting the Bishop Pass Trail should understand that parking is extremely limited, plan their trips in accordance with the reconstruction schedule, and consider being picked up or dropped off at the trailhead or using shuttles to/from trailheads.
On August 17, the Bishop Pass Trailhead parking lot will close to overnight parking again for necessary work. It will close intermittently to day use parking as well.
Overnight parking is still available at the dirt parking lot north of Tyee Lakes Trailhead (3 miles from trailhead).
There is no parking permitted along roadside shoulders during the construction project.
Hiker Shuttles: Eastern Sierra Transit Authority (ESTA)'s Bishop Creek Shuttle is running twice daily. https://www.fs.usda.gov/Internet/FSE_DOCUMENTS/fseprd586535.pdf
Looks like the skeeters are almost gone at least up at the landing. North Lake still has quite a few and the back of our Lake once you get into the shade and out of the breeze.
Fishing etiquette is once again becoming a bit of a problem at the Lake and we don't like problems. If you come upon someone fishing, please don't fish right next to them – take a bit of hike farther down and don't cast over into their spot. Same at the Inlet, there are so many areas to fish on this Lake go find another 'soon to be' favorite spot. This is also an addition by one of our customers - "If you have your boat pulled all the way into the Inlet and are hogging the whole inlet how about leaving after everyone in your boat has caught 5 to 10 fish so that others can have a chance. The inlets aren't as big as last year due to the reduced water flow and when you hog the whole inlet for 3 hours while everyone in the boat catches MORE than their limit its pretty rude. We all know that there is a whole big wide lake out there and lots of room but when people are being polite and waiting for inlet access it's pretty rude to hog it for the whole afternoon."
Also, DON'T FORGET TO PICK-UP YOUR TRASH!!!
Here is the forecast for the week from www.weather.gov (enter Aspendell, CA in the search and scroll down to see the temps).
Monday
Sunny, with a high near 80. West southwest wind 10 to 16 mph, with gusts as high as 22 mph.
Monday Night
Clear, with a low around 51. Southwest wind 10 to 16 mph, with gusts as high as 23 mph.
Tuesday
Sunny, with a high near 80. Northwest wind 5 to 8 mph becoming east southeast in the afternoon.
Tuesday Night
Clear, with a low around 50. West southwest wind 7 to 13 mph, with gusts as high as 21 mph.
Wednesday
Sunny, with a high near 75. Light and variable wind becoming east 5 to 10 mph in the morning.
Wednesday Night
Mostly clear, with a low around 47.
Thursday
Sunny, with a high near 73.
Thursday Night
Mostly clear, with a low around 47.
Friday
Sunny, with a high near 73.
Friday Night
Mostly clear, with a low around 48.
Saturday
Sunny, with a high near 75.
Saturday Night
Mostly clear, with a low around 49.
Sunday
Sunny, with a high near 76.
Stay safe and healthy – hope to see you at the Lake soon!
Juanita, Rick, Patti, Dwayne, Bob, Jesse and Matt
< Previous Report
Next Report >
< Previous Report
Next Report >
More Reports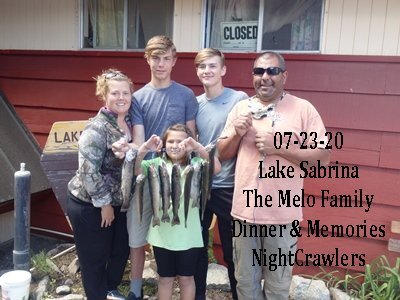 7-27-2020
A quick, but very sincere THANK YOU to all who have visited the Lake this year and put up with......
Read More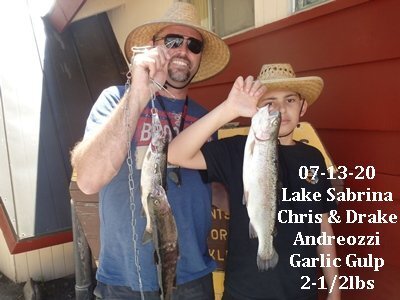 7-20-2020
AS FAR AS WE KNOW NOW, JULY 20 @ 9:00 am, WE ARE STILL OPEN AS ARE THE CAMPGROUNDS AND HOTELS A quick,......
Read More
www.EasternSierraFishReports.com © 2020. All Rights Reserved.
Website Hosting and Design provided by TECK.net