Eastern Sierra Fish Report
Mammoth Lakes Fish Report for 11-3-2008
High Sierra Fish Report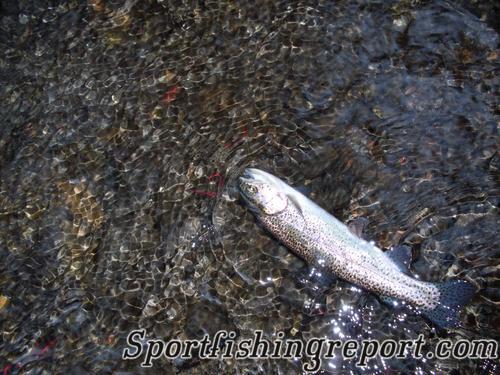 by Gary White
11-3-2008
(619) 221-8500
Website

Well, once again I loaded up the truck and headed to the hills for a last chance trip to Mammoth. I knew there was weather coming, so I figured I would get at least 1 day in Mammoth and then head somewhere south the second day. The Drive was pretty uneventful, I only passed 2 trucks the entire way up and with no moon in the sky it was very dark and boring.

Thursday morning started as usual, trying to fit a duffle bag full of fishing gear into a couple of small tackle boxes that will fit in a float tube (good luck). I finally get the float tube filled up with air and tackle and head out the door. A quick stop to get some night crawlers, then an egg mcmuffin and Im ready to hit the lake.

The lake was quite a bit different from 2 weeks ago with a chilly wind coming in over the mountains. So what's a little wind any ways, get my wadders on and hop in the tube and head out to see what's biting. I started out throwing a small floating rapala with no luck, so I switched over to the old casting bubble with artificial worm. After several casts I finally started getting bit, mostly short bit though as the fish didn't seem to want to stick. Eventually I started catching fish with my best fishing coming in shallow water (5-7 feet), they seemed to bite best on the slow retrieve. The fish were on the small side with nothing really photo worthy, I was hoping to get another shot at the big one that I dumped 2 weeks ago but it wasn't to be. Eventually the cold got the best of me so I kicked in with 6 released trout and lots of missed bites.

After a late lunch I decided to try some creek fishing to close out the day, the only question is which creek. I figured that i would check out Mcgee creek, which I have not fished in about 20 years. The creek didn't really look so hot, so back in the truck and up the 395 to a spot I fished this spring. Now I'm not sure if this creek is considered Deadmans creek, or Glass creek as they both come together right where I fished. I was initially concerned that the creek would be low as it is late October and even in June when I fished it last it wasn't running that strong. Just as i thought the creek was barely running, in fact the southern fork was completely dry (I think thats deadmans creek). I took the time to snap a shot of myself sitting in a spot that was very fishy in the spring, but was now dry as a bone.

Oh well, I was sure I could find some part of the creek with enough water to hold a fish, and I was right. Just a small waterfall near the campgrounds provided enough cover for a Rainbow to wait for a chunk of crawler to come floating by and get me on the board. That would be my last fish of the day as the weather was really starting to move in and i had to get back to town.

Friday morning started out with rain and wind so I decided to hang out in the hotel until the weather let up a bit. My plan was to head down to Bishop to try out the Owens river and hopefully get out of the rain and cold that was enveloping Mammoth. The rain stopped just long enough for me to load up the truck and head south to the Owens. After a quick stop at the Bishop fishing shop, I had enough info to find the river (hopefully) and give it a go.

Though the river was easy to find, I was having trouble finding a spot that I could enter the water. After a bumpy ride down a dirt road I finally see the river and decide to try the first accessible spot I can find. The Owens river is kind of a slow meandering river with lots of bends and lots of trees lining the banks. My first 2 casts from the bank both produce nice rainbows, both on crawlers and both putting up a good fight. After missing a couple more bites I decided to enter the water and start my way down the river. I also made the decision to use artificals and hoping for a nice brown I opted for the floating rapala, which would turn out to be the right call. The river was perfect for throwing lures, wide with lots of deep channels. I picked away at nice Rainbows as I made my way down the river, some of them approaching the 2 pound mark. I got about as far as I wanted to go and decided to work this last spot for a while, the fish were biting pretty steady as i could see them feeding on flies (I bet a fly fisherman could have really done some damage). Finally I get the Brown that I was looking for, it looked to be around 16 inches, the picture was a little out of center as i was up to my waist in water and fumbling things around trying to use the camera. After catching 1 more Rainbow I decided to call it a day. With the truck already loaded I headed straight from the river to the Highway and then 6 hours later back home in time to hand out some candy.

Next Report >
EasternSierra.FishReports.com © 2019. All Rights Reserved.
Website Hosting and Design provided by TECK.net