Eastern Sierra Fish Report
Lake Sabrina Fish Report for 8-6-2018
Lake Sabrina Boat Landing Report.
Lake Sabrina - Bishop, CA (Inyo County)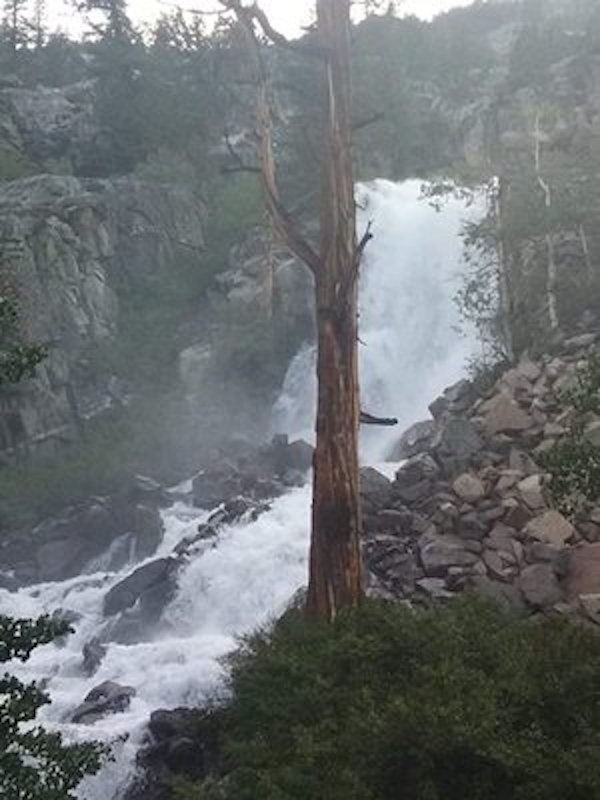 by Rick, Patti, Juanita and Jerrod
8-6-2018
Website

One day it's smoky, the next day it's not . . ., but nothing like our FireFighters and those next to the fires are experiencing - our hearts, thanks and prayers go out to each and every one of them.

We know you all want to know if it's going to be smoky or not – we sure would like to know the same thing, but unfortunately we just don't know and all of our experience here in the mountains doesn't help either – sure wish it would, but it just doesn't – the same goes for the weather. We wish we could predict the exact time it's going to rain, but, alas we can't.

Fishing is a bit on the slow side again – not sure if it's the smoke, the moon, the sun or the way people are holding their tongue, but you're having to work a bit harder to catch your limit.

NightCrawlers, Salmon Eggs and Jigs still seem to be what's working especially back at the Inlets – all three of them. Don't crowd in the DingleBerry Inlet if it's already crowded – try Little George Inlet in the back left side or the George Inlet about 200 yards from the back left. Another great place to fish is over in Jack's Bay across the Café or in front of the dam by the outflow. Might want to try NightCrawlers drifting around the rock piles.

Grant and Duane Dietz combined efforts to put dinner on the table catching quite a few fish on Jigs and Thomas Buoyants – they're largest – a 1-3/4 pounder. Tim Toone, all the way from South Carolina, and old SoCal friend 'Sharkie Salazar had a grand time on the Lake and also caught a 2-1/4 Rainbow.

People, sure would be nice if y'all would pick up your trash when you leave. It's really not that hard. Just sayin! If you need something to put it in, come into the store and we'll give you a bag.

Dwayne hiked up to the waterfall last week; it's as beautiful as ever and still filling the Lake!

Looks like it's going to be a hot week at the Lake, then the ThunderBoomers return for the weekend – we can only hope that some moisture will be produced over the fire areas to help. Temps thru Friday look to be in the high 70s and we might even reach the low 80s on Thursday – then temps drop to the mid to low 70s with a chance of ThunderBooms coming in on Saturday. PACK YOUR RAINGEAR!!! The low temps forecast is in the mid 50s for the week. You can check out the forecast for the week at www.weather.gov (enter Aspendell, CA in the search and scroll down to see the temps).

And the hiking conditions:
Be prepared for ThunderBoomers and downpours – it's the monsoonal season and they're in the weekend forecast.

If you're hiking stay safe out there. Remember to leave a note about your destination and approximate return time and a clothing description. And please hike with a buddy!

Things to do when you're not at the Lake:

Eastern Sierra Tri-County Fair
Exhibits, displays, rodeo, carnival, destruction derby and thousands of homemade & homegrown items on display. Call 760-873-3588 for more information.
Fair Hours:
Thursday, August 30th 4:00-11:00 p.m.
Friday, August 31st 4:00-11:00 p.m.
Saturday, September 1st Noon - Midnight
Sunday, September 2nd Noon - Midnight
Click here for more information.

All Aboard!
A visit to Laws Railroad Museum and Historical Village is always a treat, but come on a day the train is running and it'll be extra special!
https://www.lawsmuseum.org

Important stuff that just stays in the report for a bit:

PRIVATE BOATER: Please don't overload your boats – it causes us great distress!!! USE YOUR NOGGIN!

Spoke to the local Department of Fish and WildLife Game Warden regarding fisherpeople needing to have their own stringers and up to five fish per stringer. His response is – "It is highly recommended, but not required, but everyone better be present if I'm checking".

If you catch a big fish or a limit just to have your picture taken for the webpage and then try and give your fish away – we won't post your picture, but then again we may post it as 'WASTER OF A PERFECTLY GOOD FISH TO EAT'! Crimp down your barbs, take a picture on the boat and release it for another day.

When using the bug juice or hand sanitizer or sunscreen or lotion or cologne or perfume, try not to get it on your hands – you'll transfer it to your bait and the fish just don't like any of that foo-foo stuff. Wash your hands in the stream or Lake to get it off, and then use some fish attractant on your hands.


< Previous Report
Next Report >
< Previous Report
Next Report >
More Reports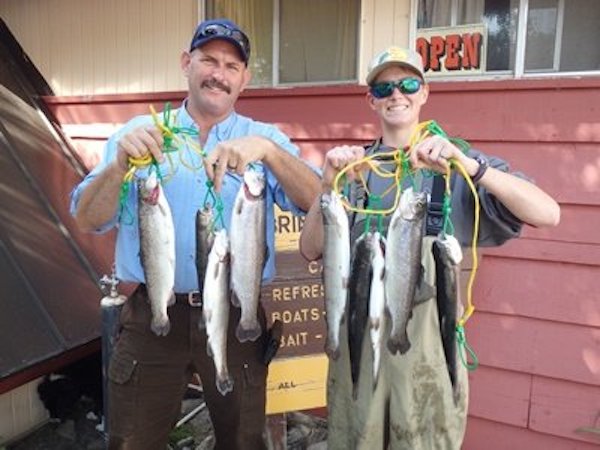 7-30-2018
The road opened on Friday evening at 5:30pm to the Lake. There's still work to be done, but a hearty......
Read More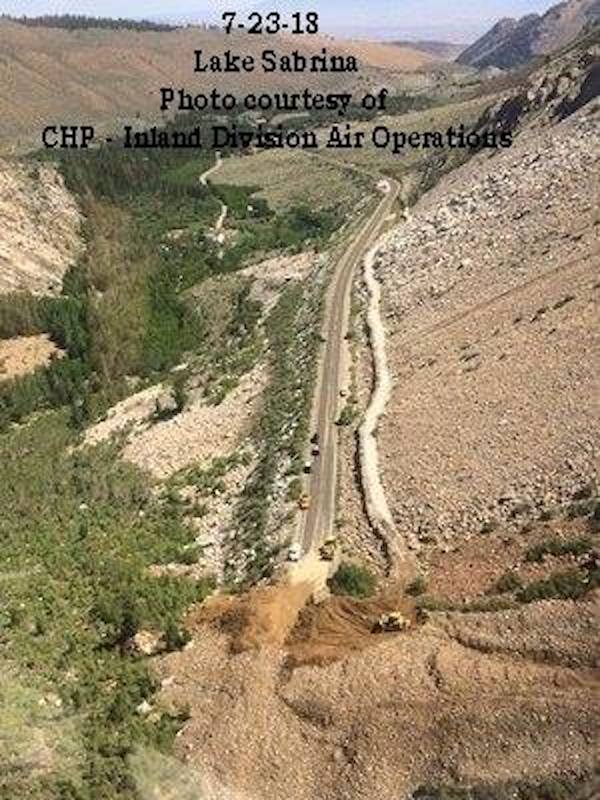 7-25-2018
A message from the Inyo County Sheriff's and CalTrans District 9 offices: STATE ROUTE 168W (BISHOP CREEK) ACCESS TO RETRIEVE VEHICLES Inyo......
Read More
EasternSierra.FishReports.com © 2019. All Rights Reserved.
Website Hosting and Design provided by TECK.net