Eastern Sierra Fish Report
Lake Sabrina Fish Report for 9-25-2017
Lake Sabrina Fish Report
Lake Sabrina - Bishop, CA (Inyo County)
by FishReports.com
9-25-2017
Website

Lake Sabrina Boat Landing
760-873-7425
September 25, 2017
WATCH OUT FOR DEER!
Don't forget that jacket!
It's THAT time:
WATCH OUT FOR PHOTOGRAPHERS IN THE MIDDLE OF THE ROAD
The Café will close for the season on Sunday, October 8. Looks like the last boats of the Lake Sabrina Boat Landing season will be put out on Sunday, October 15th and we will close for the season at 1:00pm that day. You can still come up and put in your own boat or fish from shore until November 15th when fishing season closes in the Eastern Sierra Mountains.
Don't forget, we've gone to our Fall hours:
Open        Close
Sunday    7:00 am    7:00 pm
  Cafe       7:00 am    4:00 pm
Monday   8:00 am    6:00 pm
  Cafe       8:00 am    4:00 pm
Sunday    8:00 am    6:00 pm
  Cafe       8:00 am    4:00 pm
Sunday    8:00 am    6:00 pm
  Cafe       8:00 am    4:00 pm
Sunday    7:00 am    7:00 pm
  Cafe       7:00 am    4:00 pm
Sunday    7:00 am    7:00 pm
  Cafe       7:00 am    4:00 pm
The Lake is on the way down, but that means a bit more shore fishing available. The Quaking Aspen Leaves were doing a bit of quacking with the strong breezes that came thru with the snow we got last week – almost felt like 'Brown' weather. Speaking of those leaves it's seems that they get a brighter and brighter yellow with each new day. Tis truly a beautiful sight. And with that beauty around every corner, please take it slow up here on the mountain. We've got cars stopped right in the middle of the road taking in the sights, not to mention the photographers that are setting up their tripods in the middle of the street to get that perfect angled shot! TAKE IT SLOW!
The catching part of fishing is on the upside this week. Fish the Inlets with NightCrawlers, PowerBait, MiceTails or Jigs. Troll leadcore with Thomas Buoyants or NeedleFish at 4 – 5 colors. If using monofilament, try flashers, NightCrawlers or Lures with a bit of red on them around the rockpiles or shorelines. Drift the rockpiles with NightCrawlers, MiceTails or PowerBait. There's a bit more room for shorefishing as the Lake is starting to drop – might have a go with NightCrawlers, PowerBait, Salmon Eggs or toss a Lure. Fish over on the far side of the Dam by the outflow with PowerBait, NightCrawlers and MiceTails. Got a good stocking of DFW fish on Tuesday.
THIS WEEKS BIG FISH
A couple BIG fish came out this week – Paul Greenwell bested Ros Greenwell by 3/4 of a pound – Paul catching a nice 3-pounder while Ros only brought in a 2-1/4-pounder – both using a jig with an inflated NightCrawler. Len Taylor was trolling a Speedy Shiner lure when he lured a 2-3/4 pounder.
So now we come to the weather forecast – had a bit of the white stuff last week and that cold weather stayed with us over the weekend. We're lucky it didn't turn the Aspen leaves black with that freeze. Looks like we are heading back into a bit of an Indian Summer with temps rebounding back up into the upper 50's and low 60s for the weekend. The lows are even headed back up into the upper 30's. You can check out the weather forecast according to Howard our local weather 'guesser' at www.MammothWeather.com. You can also check out www.weather.gov – enter Aspendell, CA (which is the little community right below Lake Sabrina) in the search field and you'll get the forecast for at the higher elevation. You may need to scroll down on the webpage to see the temps.
10/2:  OVRO Tour.  See the "Big Ears" up close and learn all about the Owens Valley Radio Observatory.  Held the first Monday of every month from 1 PM to 2 PM. Contact Dr. Mark Hodges for info at 760-938-2075 (Ext 109).
10/4: Duetto In Concert.  Outstanding live concert presented by Bishop Community Concerts Association.  7pm at Bishop Union High School Dorothy Joseph Auditorium.
10/6-10/8:  Fall Colors Car Show.  Tri-County Fairgrounds in Bishop.  Hosted by Owens Valley Cruisers.
10/6-10/8:  Lone Pine Film Festival.  Movie screenings, star panel discussions, tours and more.
10/7:  Choo Choo Swap Meet.  Like a hundred yard sales in one location.  Tri-County Fairgrounds in Bishop, organized by Laws Railroad Museum.
Keeping this info on the report:
It's a pet peeve of mine that if you catch a big fish or a limit just to have your picture taken for the webpage and then try and give your fish away – we won't post your picture, but then again we may post it as 'WASTER OF A PERFECTLY GOOD FISH TO EAT'! Crimp down your barbs, take a picture on the boat and release it for another day.
Not many issues lately with skeeters and with the cold temps coming in, probably won't need the bug juice, but when using the bug juice, try not to get it on your hands – you'll transfer it to your bait and the fish just don't like bug juice or sunscreen or lotion or cologne or perfume. Wash your hands in the stream or Lake to get it off, and then use some fish attractant on your hands. If you're coming to the Lake, don't forget sunscreen and dark glasses –the snow and sun makes it pretty bright against the blue sky. DON'T FORGET THAT JACKET.
People, sure would be nice if y'all would pick up your trash when you leave. It's really not that hard. Just sayin! If you need something to put it in, come into the store and we'll give you a bag.
If you're hiking stay safe out there. Remember to leave a note about your destination and approximate return time and a clothing description. And you might want to hike with a buddy. Too many search and rescues this year.
Fishing etiquette is becoming a bit of a problem at the Lake and we don't like problems. If you come upon someone fishing, please don't fish right next to them – take a bit of hike farther down and don't cast over into their spot. Same at the Inlet, there are so many areas to fish on this Lake go find another 'soon to be' favorite spot.
Safe travels.
Juanita, Rick, Patti, Len, Ginny, Dwayne, Jamin & Wade
< Previous Report
Next Report >
< Previous Report
Next Report >
More Reports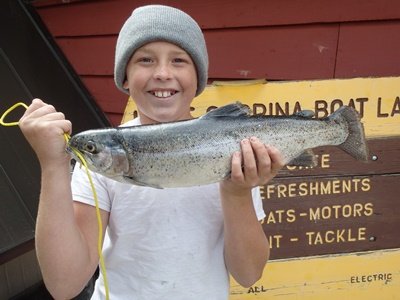 9-18-2017
Lake Sabrina Boat Landing 760-873-7425 September 18, 2017 WATCH OUT FOR DEER! Don't forget that jacket! It's THAT time: WATCH OUT FOR PHOTOGRAPHERS IN THE MIDDLE......
Read More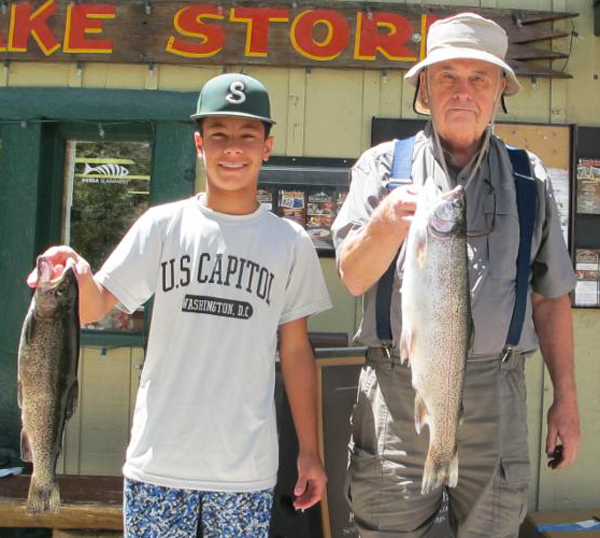 8-22-2017
Hello All,    It has been a great week here at Convict Lake. It has started to cool down quite a bit......
Read More
www.EasternSierraFishReports.com © 2023. All Rights Reserved.
Website Hosting and Design provided by TECK.net