Eastern Sierra Fish Report
Fish Report for 9-26-2018
Eastern Sierra Fish'N Conditions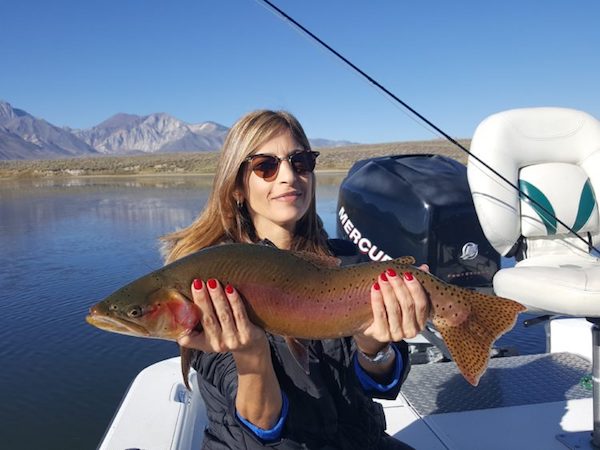 Keren Latzer scored big time with this exceptional cutthroat while fishing with Two Bug Doug!
Fish'N Conditions
Beautiful weather has graced the month of September as we have been enjoying perfect daytime temperatures in Mono and Inyo counties. The breeze has been coming up in the afternoons and keeping temperatures very comfortable for fishing. The nights have been reaching freezing and we have had ice on the docks and the river banks in the mornings. By 8 am, most of the ice is gone and the cold weather jackets are being peeled off as the sun hits the water. East Walker River fishing very well with the recent drop in flows. Most seasonal fly patterns working well drifted in the deepest sections. Bridgeport Reservoir starting to experience lower water along the breakwall and the marina. Decent fishing in the creek channels and on the flats. Silver and Grant Lakes good for numbers of mixed fish sizes along the south ends. Upper Owens River giving up school sized trout in most of the pools above and below the bridge with small nymphs and egg patterns. A few larger fish starting to show. Hot Creek fun with dry flies over the weed tops and open water lanes. Crowley Lake getting to mixed bag status as fish of all sizes are now making a showing. Middle Owens River blown out at 600 cfs currently.
Crowley Lake
Good midge hatches have been coming off daily. Small midges are currently the norm in the #18-20 range. Perch fry and callibaetis mayflies still around. Fishing along the weed beds which transition to a mud bottom have been the most productive areas. Some killer cutthroat and rainbows have been feasting in these areas. Some days call for your midges to be hung inches off the bottom, while others have them fishing 2-3′ off for best results. Best areas have been the north arm, Leighton Springs, Alligator Point, McGee Bay and Crooked Creek. #16-18 Copper Tiger Midge, #18 Zebra Midge, #16 Parallel Assassin Dark, #16 Parallel Assassin Light, #16 Parallel Punk Perch Dark, #18 Gillie Light and Dark have been the best flies.
Bridgeport Reservoir
Water dropping down in the marina. Fish are still hanging in the channels, and midges, perch fry, assassins, and pheasant tails have been working well. You will find a mix of fish sizes now as most fish are seeking out the cooler water coming from the creeks. Assassins and Punk Perch hung under the indicators close to the weeds have been effective. Midges still working well over the mud bottoms. #14-16 Level Crystal Leeches, #14-16 Assassins Light, #14-16 Parallel Punk Perch, #12-18 Copper Tiger Midges, and Zebra midges have been great and effective patterns.
Middle Owens River (Bishop Area)
Flows have started coming through heavy again recently. Current cfs is 600. We will be monitoring the flows here and are ready to pounce once the time is right. Mid afternoon hatches will be on hold until the flows come down again and at that time we will start resuming trips here.
Upper Owens River
Fish scattered above the bridge with better numbers below the campgrounds. The river has a good amount of catchable size rainbows all over, but more fish below the bridge. Flows have increased to 108 cfs. A few larger than average sized trout in the deeper sections. Target the deeper pools and riffle water that leads into them and you can get into some fun action fishing small nymphs, dry/droppers, and small streamers. #18 Caddis patterns working well. Look for rising fish in the mid-morning and later in the afternoons along the slower moving sections. The foam lines have been where it is at. Throwing stimulators and hopper patterns in the foam can entice fish to take on the surface.
Hot Creek
Flows up slightly to 10 cfs now with weed growth prevalent. Target the open lanes between them for the best success. Different day to day here as more weeds hit the surface and begin to choke up the open water. Dry fly fishing along the open stretches has been productive. Still fun with hoppers fished on a 9′ leader. #18 mayflies, #18-22 midges, #20 Brassies, and egg and SD worm patterns have been getting some serious looks and takes from the resident trout.
This is a year around fishery with special regs in place. We walk and wade guide here.*Tom Loe, Doug Rodricks, Doug Dolan, and Hans Grotewold are under permit from the Inyo National Forest Service to guide Hot Creek.

East Walker River
Flows now at 126 cfs. We had a good run of some nice sized rainbows and browns this last week. Flows are down to very wadable and crossable levels. Seek out the deep runs and pools. Perch fry patterns stripped slowly back are a good call now. Crawdad patterns work great this time of year, along with #18 Copper Tiger Midges, #14-16 Parallel Perch, #14-16 Level Leeches, and Assassins dark and light both Parallel and normal. #18 flashback hare's ears, #18wd 40's, and SJ worms also working well.
Grant/Silver Lakes/Alpine Lakes
Some bigger model fish are starting to show in shallower water now. Good fishing hanging midges under an indicator above the weeds at Silver. A good sonar will give you an idea of where the best concentration of fish are. This time of year the creek and river inlets hold the most fish. They still bite as the breeze comes up and you can have some pretty good number days here. The weeds are now well established at the south end of Silver. Grant Lake has been giving up some nice fish toward the inlet under an indicator. Other alpine lakes may require longer leaders to get down to the fish but the setup is still the same. 9′ leaders with #18-20 paramidges and griffith's gnats for the surface action. Go with small copper john's , Pt's , and midges when going subsurface or hung under an indicator.
< Previous Report
Next Report >
< Previous Report
Next Report >
More Reports
Sierra Drifters Reports
for Wednesday, September 26th, 2018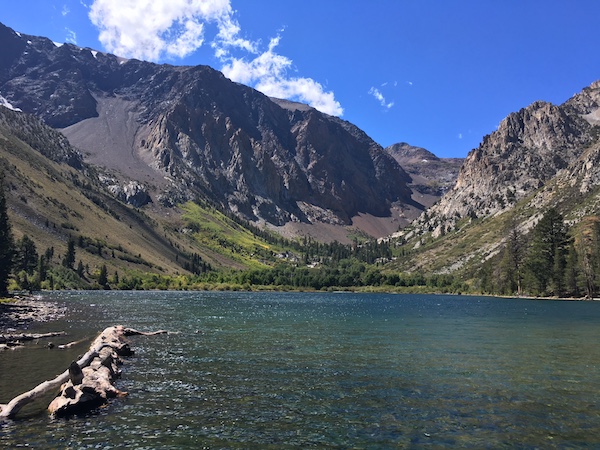 Crowley Lake
:
Small Midges are Currently the Norm
Bridgeport Reservoir
:
Midges Still Working Well Over the Mud Bottoms!
Owens River - Section 3 - Upper (above Crowley)
:
More Fish Below the Bridge
Hot Creek
:
Dry Fly Fishing Along the Open Stretches has Been Productive.
June Lake Loop
:
Some Bigger Model Fish are Starting to Show
Sierra Drifters Reports
for Monday, September 17th, 2018

Walker River - East Fork (CA)
:
Perch Fry Patterns Stripped Slowly Back are a Good Call Now.
:
Eastern Sierra Fish'N Conditions
Crowley Lake
:
Some Great Midge Hatches
Bridgeport Reservoir
:
Fish are Still Hanging in the Channels
Owens River - Middle
:
There Have Been Fish Hanging in the Deeper Pools
Owens River - Section 3 - Upper (above Crowley)
:
Target the Deeper Pools and Riffle Water!
Hot Creek
:
Different Day to Day Here as More Weeds Hit the Surface
June Lake Loop
:
This Time of Year the Creek and River Inlets Hold the Most Fish
EasternSierra.FishReports.com © 2019. All Rights Reserved.
Website Hosting and Design provided by TECK.net