Eastern Sierra Fish Report
Fish Report for 9-6-2016
A Fish Report for 9/6/16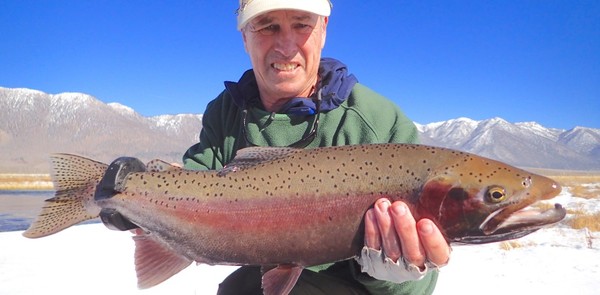 Photo Credit: Sierra Drifters
Guided fly fishing trips for Crowley Lake, Grant & Silver Lakes, the San Joaquin, Upper and Middle Owens Rivers, Pleasant Valley Reservoir, Hot Creek, & the Gorge located near Mammoth and Bishop Ca. will give you opportunities to catch trophy rainbows and browns while being guided by expert fly fishing pros. Sierra Drifters guides utilize top of the line center console bay boats, drift boats, float tubes, and high quality fly fishing tackle to guide you on these blue ribbon trout waters.
Quick look fish report 9/6/16
Crowley Lake is very good. North Arm & McGee Bay best. Perch fry, and midges best in 7-11 feet. Upper Owens action picking up for planters, bigs are still few and far between. Middle Owens around Bishop has ideal flows for wading the wild trout section. Caddis imitations best. Drift boat conditions very good, cooler weather will help out the bite. Hot Creek slow, East Walker flows up over 112cfs. Water conditions improving with cooler weather. San Joaquin River trout holding in the deeper pools now that flows are low, & dropping. Alpine lakes benefited from holiday plantings. Get those full sinks and streamers out for a shot at a big brown. The river section at Pleasant Valley Reservoir picking up. Dry/dropper rigs good in the thick brush, PVR has very high water levels, & flooded into the trees.
WE WILL NOT BE ABLE TO SHIP ONLINE FLY ORDERS UNTIL SEPTEMBER 16TH, 2016.
Please check out the resources page for shops and stores that carry these patterns. I apologize for any inconvenience.
It is not always possible to post all of our client pictures on this fish report page. I do my best to put them in our gallery. If we have previously posted your pictures on this page, you can always find them by going to the photo gallery and search for your name.
Crowley Lake 9/6/16
Algae bloom has decreased with much improved conditions. Fish are concentrating in the North Arm near Green Banks, & McGee Bay. Look near the weeds in 7-11 feet. We are seeing a solid midge hatch during the high pressure periods. The sub-surface "mud lines" are in good water depths now. The larger fish continue to hunt the perch fry, and last of the damsel nymphs; but with the increased midge activity, one can fish chironomid patterns with consistent results. The submerged aquatic weeds are protruding making the weed lines easy to identify. Tubers should be looking to troll some larger streamers, & perch fry/damsel nymphs along these weed lines. Hang your flies above a clean mud bottom in close proximity to a hard weed line for consistent action. The fish are primarily hunting the larva close to the bottom. Broken back midges, crystal zebra, or tiger midges (big ones), and damsel nymphs are all good calls while fishing below an "sliding" Under-cator. If you see those midges popping, get out those gillies, broken back gillies, & crystal emergers. My go to rig near the weeds has been an Assassin; or Drifters Punk Perch #14/16 as the upper, with a dark crystal tiger midge (#14), or broken back copper tiger (#16) as the larva pattern. Keep the tigers 6-12 inches off the deck. I have also been using twin Assassins; or a Punk Perch with an Assassin dropper along the weeds. Keep them a foot or more above the bottom. The rookies are being planted in numbers, so treat them with care. You may get into lots of sub-catchable rainbows & browns in some areas like Hilton Bay, or Crooked Creek. ***Special angling regulations begin on 8/1/16 and will continue throughout the remainder of the season on Crowley. The entry gate to the marina opens at 7am instead of 6am now.
This fishery opens last Saturday in April & closes November 15th.
Upper Owens River 9/6/16
The good news is the CDFW planted some fish around the campground area for the holiday. I also received a report that some larger fish have swam up from Crowley recently. Don't expect much change in water conditions for the remainder of this year. Water flows will not go up much due to such low levels in Grant Lake. The bigs will begin to migrate upstream in October. Conditions are poor downstream from the Benton Bridge due to heavy aquatic weed growth. Upstream from the bridge special regulations apply, & the conditions are better above the confluence of Hot Creek inlets. Grasshopper activity slowing down. Use a stimulator with a bead head nymph like an Assassin, FB PT, olive crystal caddis; or olive zebra midge as a dropper. You will also see a decent caddis hatch, although I have not seen a great surface charge in a few trips here. Hi-vis caddis adult patterns used with a dropper can also get grabs. The water levels are very low above HC, & the irrigation canal inlets. You will find most of the planted rainbows, and wild browns in the deepest pools and pockets. There are a few nicer rainbows hanging around that are best fooled by attractor patterns like the "Drifters Crawler" and crystal eggs.
The section upstream from the Benton Bridge is open year around with special regulations. Seasonal closures, and angling restrictions apply downstream from the bridge, check regulations before fishing in this section.
Middle Owens River (Bishop area) 9/6/16
Flows stabilizing around 140cfs. making wading very safe & easy in the wild trout section. Caddis activity will remain solid through late October, with Trico mayflies showing when it begins to cool down in the Owens Valley. I would not hesitate to book a drift trip this fall as I believe the "catching" will be very good early on. Chub & sucker fry will be the primary target for the bigs, so have a selection of streamers like Loebergs, Spruce-A-Bu's, and Punk Perch with a moderate sinking tip line. Good nymphs to have are Assassins, flash back pheasant tails, Drifters Crawlers, olive crystal caddis, olive dubbed caddis, and broken back tiger/zebra midges.
This fishery remains open year around. Special regs from the footbridge at Pleasant Valley campground to the fishing monument 4.7 miles downstream.
Hot Creek 9/6/16
The water levels are really low once again this year, and the aquatic weeds are making extended drifts difficult. There is limited fishable water here. Add to this a lack of fish from new management practices designating the crick as a "wild trout" fishery. It no longer qualifies for planting, thus you have some pretty slow catching. Caddis & hoppers are around, with Trico mayflies not far off from popping.
This is a year around fishery with special regs in place.
*Tom Loe is under permit from the Inyo National Forest Service to guide Hot Creek.
Pleasant Valley Reservoir 9/6/16
The small river section can kick out some good numbers of hold over trout. Flows have dropped, & this fertile little river can be really fun if you work the harder to reach brush areas accessible when the powerhouse is not generating. I like dry/dropper combos like Stimulators, hi-vis mayfly, or caddis as the upper. Use smaller Assassins, FB PT's, or crystal tiger midges as the nymphs.
This fishery is open year around.
The Gorge 9/6/16
Best time to fish this area is mid-September, through May. Flows are great at 52cfs. Use caddis adults, Hi-vis caddis, or para hi-vis mayflies as your upper fly. Good dropper nymphs are # 18 Assassin nymphs, or FB PT's. Cooler temps improving conditions. Good call during weekends, or holidays.
Season open year around.
Bridgeport Reservoir 9/6/16
Water is on the green side from algae. Fly fishers are reporting slow fishing. Trollers fishing the deeper section near the dam are getting into some planted rainbows.
This fishery opens last Saturday in April & closes November 15th.
East Walker River 9/6/16
There has been a much welcome flow increase recently; but get there quick, it will not last long. Currently 112cfs. The cooler mornings have improved overall conditions making the fish more active. Some bigs are becoming easier to reach as the flows have lowered. There remain issues with aquatic weeds in the slower sections. Focus on the deeper pockets & pools. The slower runs are choked with weed. Properly weighted nymph rigs fished in the faster riffle water downstream will get you a shot at a larger browns. Attractor patterns like Drifters Crawlers, & SJ worms can get the bigs to move. Strong caddis, midge, mayfly, & damsel fly hatches are going off. Try larger Assassins, FB PT's. and damsel nymphs. Hi-vis caddis, and hoppers are targets for surface feeders. Lob some Loebergs, Punk Perch, or damsel nymph streamers for a shot at bad LeRoy brown during low light periods.
This fishery is open year around below the Bridgeport Reservoir dam to Nevada State line. Open year a in Nevada also.
West Walker River 9/6/16
Water levels are low, with fish holding in the deeper pools and runs. Pikel Meadows, or Chris Flats sections are receiving regular plants. A deadly rig for this area is a dry/dropper using Stimulators, or hi-vis caddis and mayfly imitations as the upper fly. Tie on bead head tiger midges, Assassins, or FB PT's as your nymph about 2-4 feet below the dry.
This fishery opens last Saturday in April & closes November 15th in some sections, open year around along HWY 395. Check regulations for specific info.
San Joaquin River 9/6/16
Water levels are getting skinny as we move into fall. I like to fish hi-vis mayfly; or caddis patterns with a bead head dropper nymph like an Assassin, FB PT, or tiger midge. The riffles are best fished with high riding dries like stimulators, parachute ant patterns, foam beetles, & attractor adults. I suggest you have a stout wading staff even though the flows are down.
*Tom Loe is under permit from the Inyo National Forest Service to guide the Middle Fork of the San Joaquin River.
This fishery opens last Saturday in April & closes November 15th. Access is prone to weather/road closures, & may not allow entry during open periods of the season.
Jurassic Pond 9/6/16
Beautiful Jurassic Pond is a private trophy trout fishery that is exclusively guided by Sierra Drifters pros. It is situated near McGee Creek, and overlooks Crowley Lake. We fish with streamers, nymphs, & dry flies during warmer periods. You will not find larger trout anywhere in the Eastern Sierra. If you want a dance with a twenty pound rainbow, or double digit brown-this is the best private fishery in the region. Summer session are booking fast. Contact us for availability please.
This is private water, and access is by permission from Tom Loe of Sierra Drifters Guide Service.
Alpine Lakes 9/6/16
These lakes are highly dependent on planted trout, & the bite will be related to how many fish are stocked during your visit. Check CDFW/resort planting schedules to get the latest updates. Labor Day should see a good jag of fresh rainbows put in for many popular lakes. Tubers trolling streamers with full sinking lines can get into some fish while targeting drop-offs, inlets, & structure. Agent Orange, Crystal Leeches, Loebergs, Spruce-A-Bu's, and Punk Perch patterns are good calls to use along drop-offs, structures like submerged stumps, and near inlets. Try dry dropper rigs using hi-vis mayfly patterns as your indicator/dry fly while suspending a small midge, Killa-baetis or Assassin nymph below it 2-3 feet during low light periods. The wild brookies and browns can be fooled using this technique during the warmer summer months.
These fisheries open the last Saturday in April & close November 15th. Weather related closures may prohibit access during otherwise open periods of the trout season.
< Previous Report
Next Report >
< Previous Report
Next Report >
More Reports
Fly and Field Outfitters LLC Reports
for Tuesday, September 6th, 2016

Crowley Lake
:
Crowley Lake Fishing Report
Owens River - Gorge
:
Upper Owens River Fishing Report
Owens River - Middle
:
Middle Owens River Fishing Report
Hot Creek
:
Hot Creek Fishing Report
Pleasant Valley Reservoir
:
Pleasant Valley Reservoir Fishing Report
Georges Creek
:
Georges Creek Fishing Report
Bridgeport Reservoir
:
Bridgeport Reservoir Fishing Report
Walker River - East Fork (CA)
:
East Walker River Fishing Report
Walker River - West Fork (CA)
:
West Walker River Fishing Report
San Joaquin River
:
San Joaquin River Fishing Report
Jurassic Pond (Private)
:
Jurassic Pond Fishing Report
Alpine Lakes
:
Alpine Lakes Fishing Report
Fly and Field Outfitters LLC Reports
for Saturday, September 3rd, 2016

Crowley Lake
:
Crowley Lake Fishing Report
Owens River - Gorge
:
Upper Owens River Fishing Report
Owens River - Middle
:
Middle Owens River Fishing Report
Hot Creek
:
Hot Creek Fishing Report
Pleasant Valley Reservoir
:
Pleasant Valley Reservoir Fishing Report
Georges Creek
:
Georges Creek Fishing Report
Bridgeport Reservoir
:
Bridgeport Reservoir Fishing Report
Walker River - East Fork (CA)
:
East Walker River Fishing Report
Walker River - West Fork (CA)
:
West Walker River Fishing Report
San Joaquin River
:
San Joaquin River Fishing Report
Jurassic Pond (Private)
:
Jurassic Pond Fishing Report
Alpine Lakes
:
Alpine Lakes Fishing Report
EasternSierra.FishReports.com © 2019. All Rights Reserved.
Website Hosting and Design provided by TECK.net